The Viltrox 85mm f/1.8 STM for Sony is shaping up to be one of the oddest lenses I've ever reviewed, and, as it turns out, it's not actually an f/1.8 lens - it's an f/1.6! If you happen to own this lens, fasten your seat belt because I'm going to show you how to harness all the magic of that extra speed and light in a moment, but first, let's get into the details.
Viltrox 85mm f/1.8 now goes to f/1.6
A while ago, when I was first reviewing the Viltrox 85mm Manual focus lens, and later, the 85mm f/1.8 STM autofocus version of the lens, I happened to notice that the aperture didn't open up quite all the way. It's not the first time I've seen this so I didn't anticipate this feature of the lens being used in future to make it faster or brighter, but indeed that's exactly what Viltrox has done.
So now, besides rumors floating around that Tokina's new 85mm f/1.8 is actually a Viltrox 85 mm f/1.8 in disguise, Viltrox now has this new f-stop mystery surrounding it. But why did Viltrox release this as an f/1.8 lens initially, engrave "f1.8" on the barrel, and market it and promote it as an f/1.8 if they knew it was ultimately going to become an f/1.6? While I can't say for sure, I'd bet that it was somewhat of a brilliant engineering  move on their part that probably had more to do with evolving the lens and its autofocus capabilities than it did with the wow factor of a future firmware update that would make it brighter and faster. As a side note - I was definitely pleasantly shocked by this move since I've never seen anyone else do something like it before.  
What might be even more exciting, judging by the tiny bit of aperture blade that looks like it could be rolled back a smidgen more at f/1.6, I'd guess this lens may end up being an  f/1.4. For now though, only f/1.6 is possible, but it's immediately possible via a firmware update and a magic focus re-calibration ritual.
A word of caution
Despite initial reports claiming that this firmware update was released as a special treat for Chinese Viltrox brand enthusiasts to unlock a faster, brighter aperture, new reports, based on information allegedly received by Fujifilm, claim that the firmware may not have originated from Viltrox so it may actually be a clever hack someone else created by modifying the script of the firmware. I've personally been using this special firmware update since May with my A7riii and A7rIV cameras and it's worked flawlessly, but since there's reasonable doubt on its origins, I think it's worth mentioning that you should use this at your own risk.
How to upgrade your Viltrox 85mm f/1.8 firmware
While this magical aperture changing firmware update hasn't been made available via the North American Viltrox website, they have made it available to the delight of their fans over in Asia. Note: this is a an all new update that was only made available on a limited basis.  While I personally  found it to work flawlessly with my A7r4, please be aware that it may have some beta-ish behavior. If you run into any issues, reverting to an earlier firmware version is quick and easy and should resolve any issues you may encounter if this update doesn't work for you.
Download the firmware update, by clicking here.
Locate a USB type-b cable (the lens doesn't come with one) and plug it into the port at the base of the lens then plug the other side into an available USB port on your computer. The .dat file is quite small so it shouldn't make a bit of difference if you choose a USB 3 or USB 2 port (depending on what's available to you).
Once plugged in, the Viltrox 85mm SMT lens should appear as a device under This PC as pictured below.

Now that you've verified the lens has been connected properly, you can extract and open the .dat file and drag-and-drop it onto the Viltrox DFU folder in Windows Explorer.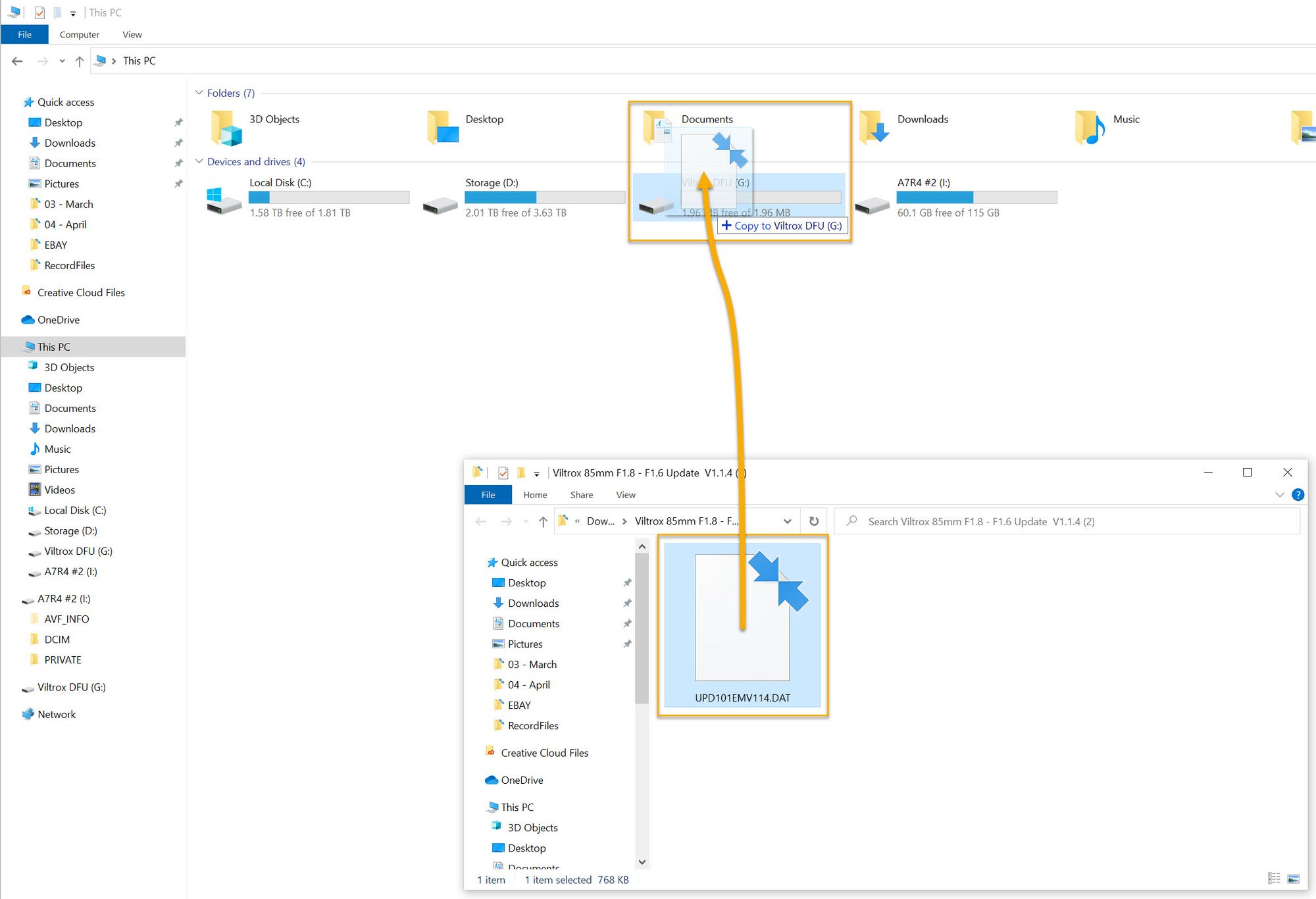 If successful, the lens folder should refresh briefly in Windows Explorer, indicating that it has restarted and applied the firmware. Normally, this would be all that is required for a firmware update. But in this case, you also have to recalibrate the lens.
How to calibrate your Viltrox 85mm f/1.8
Mount your Viltrox 85mm f/1.8 lens onto your Sony alpha series camera
Ensure your camera is powered on and in Aperture Priority (A) mode.
Set your camera to use manual focus mode
Set your aperture to f/4.5
Holding the camera so that the screen faces your body, turn the focus ring clockwise (right) until you see it reach the minimum focus distance. Once you've reached the minimum focus distance, continue to rotate the ring an additional 4 complete rotations.
Take a photo and allow the camera a moment to write to your SD media
The moment the image is written, power down the camera and remove the battery for at least 3 seconds.
Re-insert the battery and power the camera back on. You should now be able to open the aperature up all the way to f/1.6