This article contains affiliate links, for more information see the disclosure here. Using these links won't cost you a thing, may save you money, and it helps us to keep putting out great material for you to read while remaining ad free. Thanks for your support!
---
Note: We purchased the Viltrox 85mm f/1.8 manual focus lens used in this review with our own money. This review is independent and is not sponsored by Viltrox  or endorsed by them in  any way.
---
About
Lens model: VILTROX PFU RBMH 85mm F1.8
Release date: November 16, 2018
At a glance: Powerhouse performance at a budget price
Our score: ✪✪✪✪ (4/5 stars)
Where to buy: Amazon, eBay, BH Photo, Adorama
| Pros | Cons |
| --- | --- |
| ✓ Great build quality | ✖ No weather sealing |
| ✓ Ideal focal length for portraits | ✖ Flare resistance could be better |
| ✓ Sony full-frame e-mount native | ✖ Caused my Sony A7rIV to freeze on one occassion |
| ✓ Nice minimalistic appearance | |
| ✓ Superb bokeh | |
| ✓ Beautiful image quality | |
---
---
Specifications
| | |
| --- | --- |
| Model #: | PFU RBMH |
| Focal range | 85 mm |
| Magnification | About 0.13x |
| Object distance image ratio | 1:8 |
| Maximum aperture | f/1.8 |
| Minimum aperture | f/16 |
| Number of aperture blades | 9 (hypercircle) |
| Angle of view | 29° |
| Optical formula | 10 elements in 7 groups |
| Minimum focal distance (MFD) | 80cm (2.62 feet) to infinity |
| Filter thread size | 79mm |
| Lens hood | PL-07A (included) |
| Mount type | Sony Full-Frame E-Mount (FE) |
| Weight | 665g (1.47lb) |
| | |
| --- | --- |
| Zoom ring | N/A (fixed-focus prime) |
| Focus ring | Yes (metal with textured grip) |
| Autofocus | N/A (full manual) |
| Focus type | TBA |
| Focus motor | N/A |
| Image stabilization | No |
| Optical coating(s) | HD nano multilayer, fluorite |
| Front element rotation while focusing | No |
| Internal focusing | Yes |
| Lens extension while focusing | No |
| Lens extension while zooming | N/A (fixed-focus prime) |
---
Video
---
Alternatives to Viltrox 85mm f/1.8 Manual Focus
Not as good: Tokina Atx-M 85mm F/1.8 for Sony E ✪✪✪
While the image quality of this lens is nearly identical to the Viltrox, Tokina's offering is quite a bit more expensive at $300 more. Right now, if getting an affordable 85mm with autofocus is your goal, I'd reccomend opting for the Viltrox 85mm STM, which currently sells for $100 less than the Tokina. Moreover, if you plan to use manual focus primarily, the manual focus on the Tokina is stiff by comparison, and there's a lot longer focus ring throw, making manual focusing both more difficult and less enjoyable in my opinion.
Comparable: VILTROX 85mm F1.8 STM Auto-Focus ✪✪✪✪
If autofocus is important to you, you might want to pony up the extra $200 and go with the autofocus version of the Viltrox 85mm f/1.8. The image quality is identical as far as I can tell and the only sacrifice you'll make is that this lens uses a stiffer focus-by-wire system with a significantly longer throw, making manual focusing less intuitive.
Better: Samyang/Rokinon AF 85mm f/1.4 Lens for Sony E SYIO85AF-E | ✪✪✪✪
At its current price point of $599, Samyang's 85mm f/1.4 autofocus lens is currently about $400 more than the Viltrox manual focus offering. This lens offers comparable build quality, marginally better sharpness across the frame, better pop, and a wider aperture.
Better: Sony FE 85mm f/1.8 Lens SEL85F18/2 ✪✪✪✪
The bokeh quality of Sony's original 85mm f/1.8 isn't quite as smooth as this Viltrox lens, but the autofocus is there. It's a tad better sharpness wise and costs about $400 more.
Better: ZEISS Batis 85mm f/1.8 Lens for Sony E 2103-751 Our score:✪✪✪✪✪
While vastly more expensive, this lens offers a great combination of reliable autofocus, more sturated colors, superior contrast, and beautiful bokeh. If you're on a budget, go with the Viltrox manual focus; otherwise, consider this as a good, albeit, a hugely more expensive alternative.
Better: Sony FE 85mm f/1.4 GM Lens SEL85F14GM ✪✪✪✪✪
Sony's 85mm GMaster is one of the best prime lenses you can get at this focal length and, besides being wider and faster, it outperforms this viltrox lens in sharpness across the frame, flare resistance, bokeh quality, build quality, color, contrast, and handling. It's currently about $1500 more though, so I'd only recommend it to serious pro photographers and enthusiasts with deeper pockets who want the absolute best that money can buy.
Better: Sigma 85mm f/1.4 DG HSM Art Lens for Sony E 321965 ✪✪✪✪✪
While heavier, much larger, and a lot more expensive, Sigma's no-comprmise 85mm f/1.4 outperforms Tokina's lens and rivals Sony's GMaster 85mm f/1.4 at a significantly lower price-point. While I think that the the GMaster does have a bit better autofocus performace, I still consider Sigma's offering to be among the best 85mm e-mount lenses that money can buy. In fact, I personally prefer it optically to the GMaster. I also love that it's hand crafted in Japan to some seriously high standards and rigorous quality control.
---
First impressions
The PFU RBMH 85mm f/1.8 is an all new manual focus lens created by Viltrox for Sony full-frame cameras.
I'll preface this article by saying my expectations for this lens upon receiving it were low – in fact, very low. Yes, Viltrox has built a reputation for making affordable lens adapters and other camera accessories for years, but this is their first attempt at producing something as complex as a camera lens – at least, that I'm aware of.
Since I'm wary to buy into first generation anything, even when it's coming from a well established manufacturer with a lot of experience producing similar products, the idea of owning this lens clashed greatly with my past experiences. More often than not, I've found that first generation stuff is ridden with bugs and design flaws that need to be worked out. This usually takes several generations to happen and users have to cope in the interim.
This 85mm f/1.8 was ambitiously released in tandem with two other lenses – another fast, manual focus 20mm wide-angle f/1.8 lens, also for Sony full frame, and an autofocus 85mm f/1.8 lens for Fujifilm APS-C cameras. All of these new Viltrox lens releases feature an impressive all-metal body enclosure made from brass.
Despite my initial hesitation, it appears Viltrox put an incredible amount of thought and work into this offering and decided to enter the arena strong. Overall, the 85mm f/1.8 is a dream to work with and it actually made shooting photos more fun during my testing.
---
Viltrox 85mm f/1.8 image quality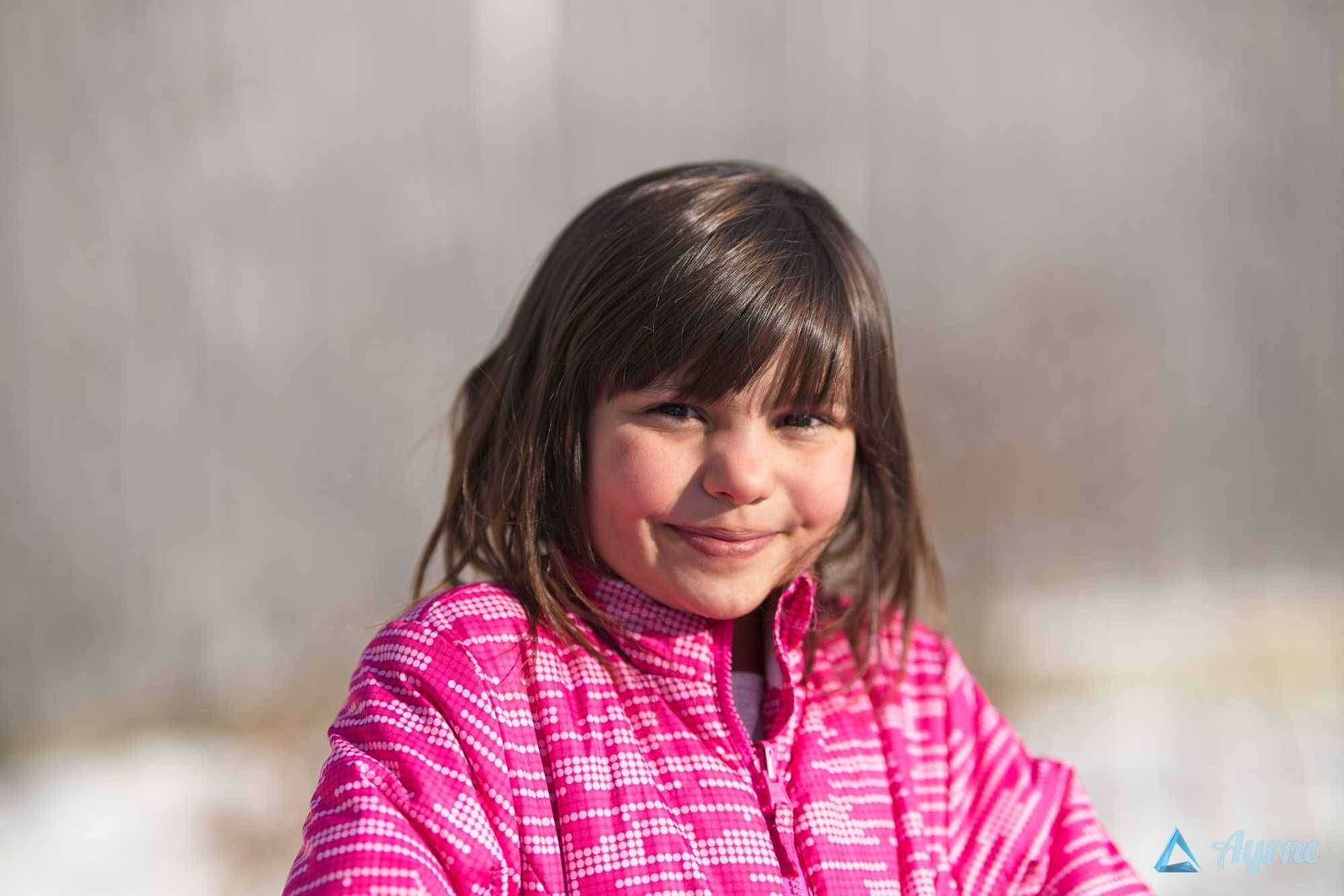 The image quality on this lens is surprisingly good and it's an all around solid performer in most of the areas that I tested. According to the MTF charts published by Viltrox, this lens offers excellent center and edge to edge sharpness and superb resolving power. Perceptually, I felt the images were more on the neutral side as far as contrast and sharpness go, but as I edited them in post, I found that there was plenty of rich data that could easily brought out to taste. Right out of camera, the neutral quality of this lens gives skin a subtle sheen, making it and excellent choice for portraiture as well as black and white photography.
Color rendering is enjoyable and mostly true to life, with the only noticeable exception being that the auto white-balanced purple hues I captured in the evening sky tended to lean more towards blue than what I actually saw with my eyes. This isn't surprising, as, throughout my testing, this lens tended to renders colors that were a bit more cool than they were warm.
Both purple and green chromatic aberration were fairly pronounced, although this is mostly correctable in post processing. Given that the optical construction only appears to includes one extra-low dispersion element, this makes sense. The trade off is that you get excellent light transmission and very natural color rendering in most situations by foregoing optics that are heavily coated to prevent these sort of things.
Flaring and ghosting when exposed to very bright direct light (such as the sun) were reasonably well controlled, although, I wouldn't say this lens is exceptional in this regard.
Image quality highlights
Sharp at center wide open and sharp across the frame by f/5.6
Color rendering using auto white balance on my A7riii was mostly natural and accurate to real life, although it can lean towards relatively cooler tones at times
Purple and green chromatic aberration is fairly pronounced, but mostly correctable in post processing
Micro contrast and contrast in general is tends to render more on the neutral side, but pop, when desired, can be easily brought out in post
The far edges of the frame are a tad soft wide open
---
Sample images from Viltrox 85mm f/1.8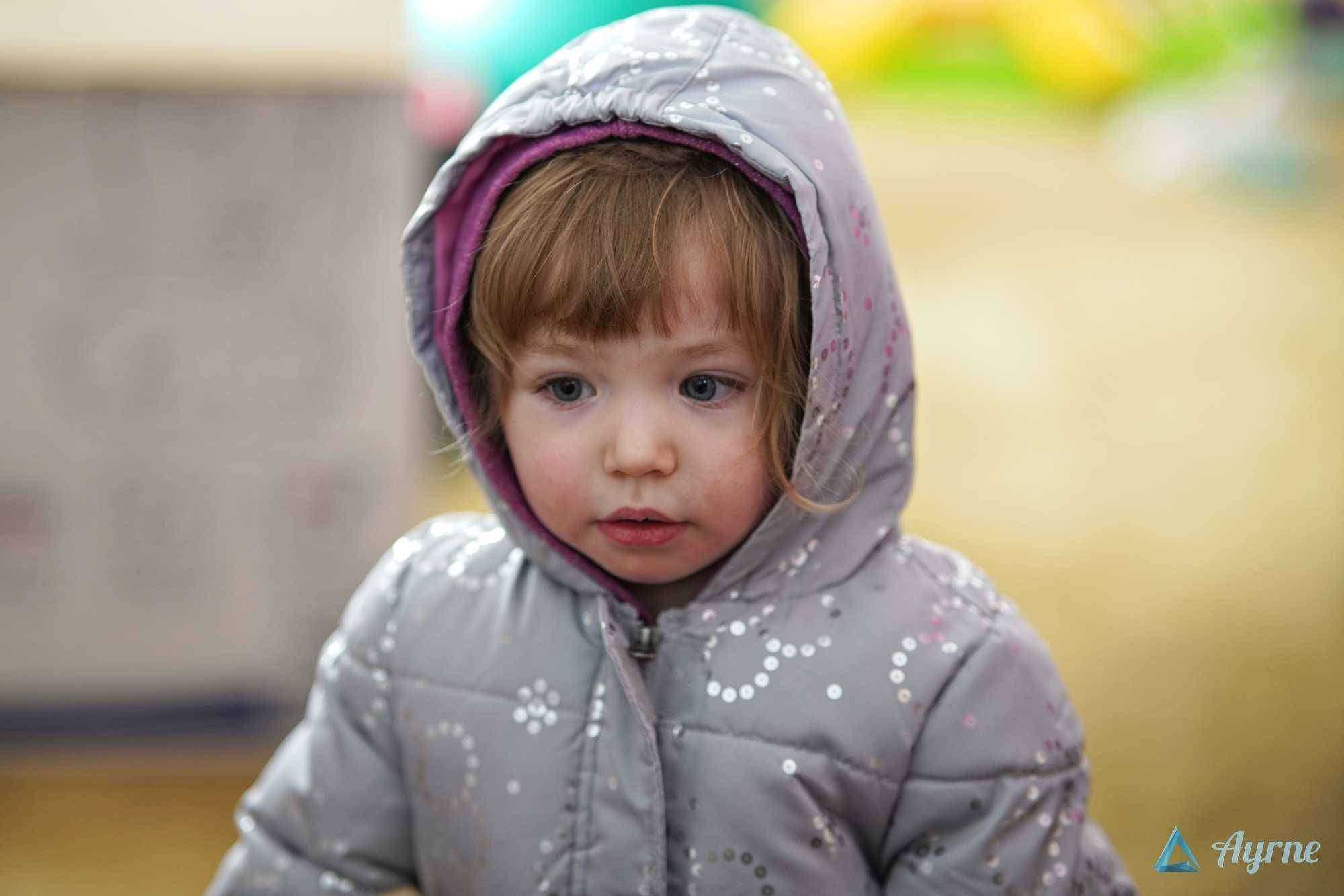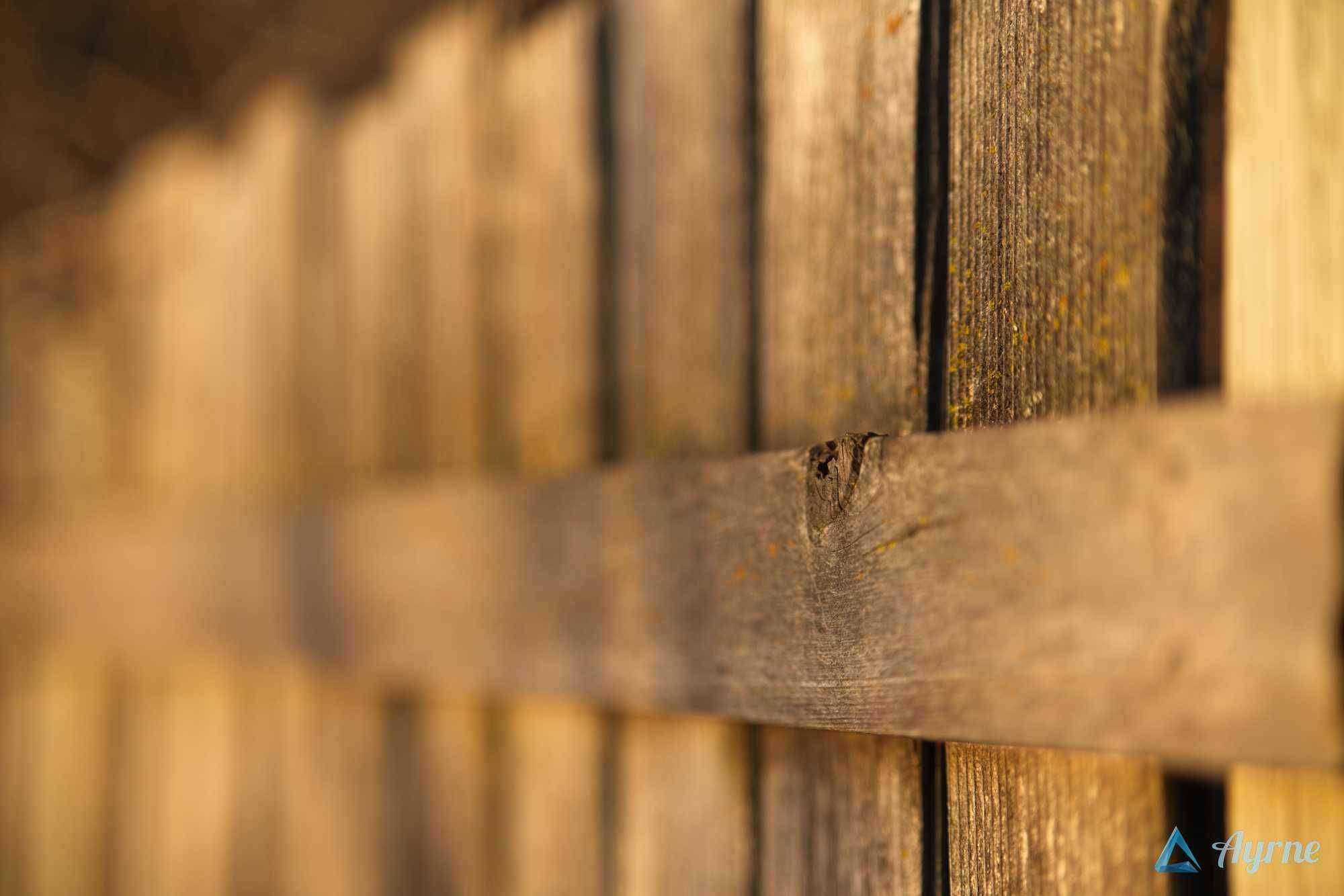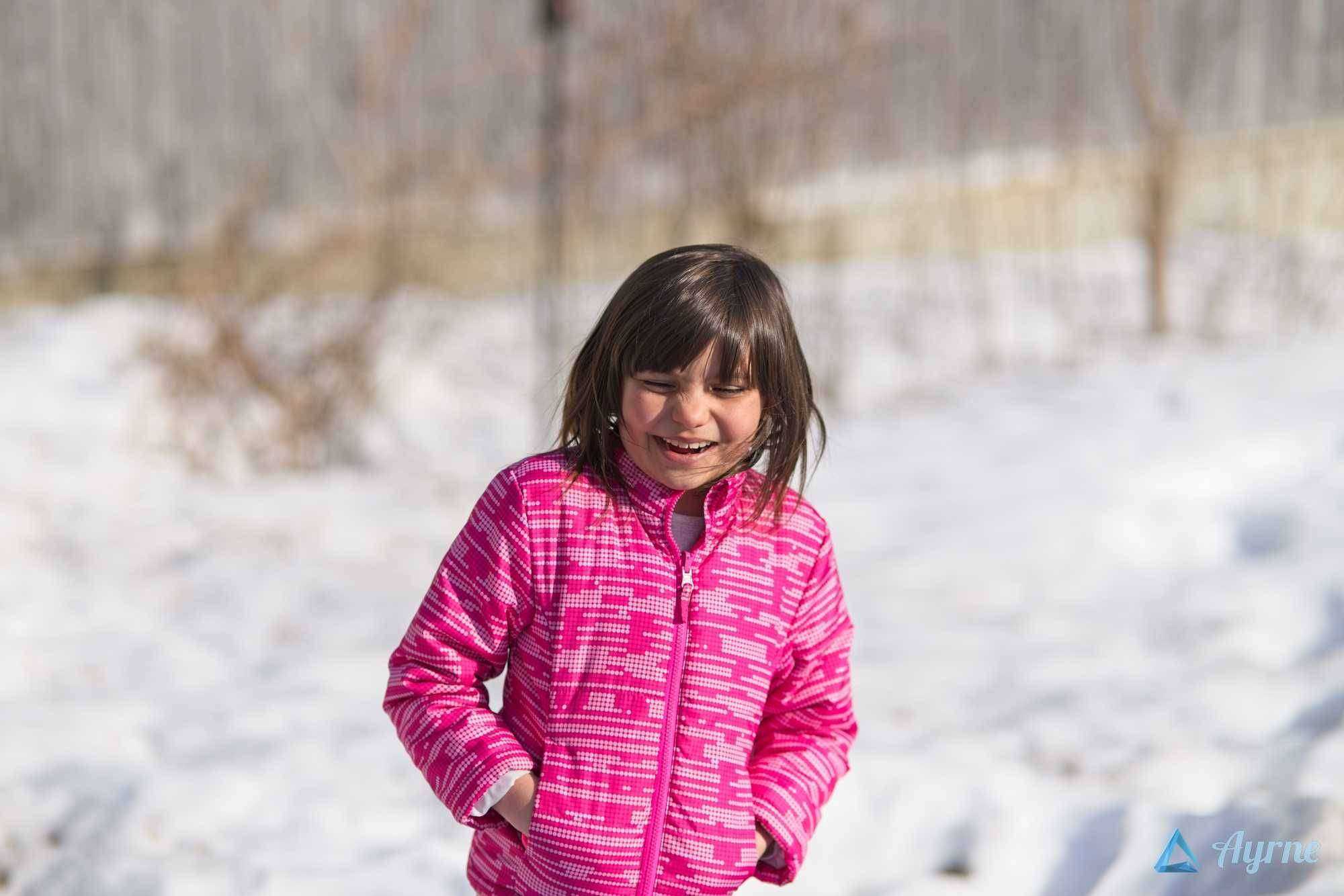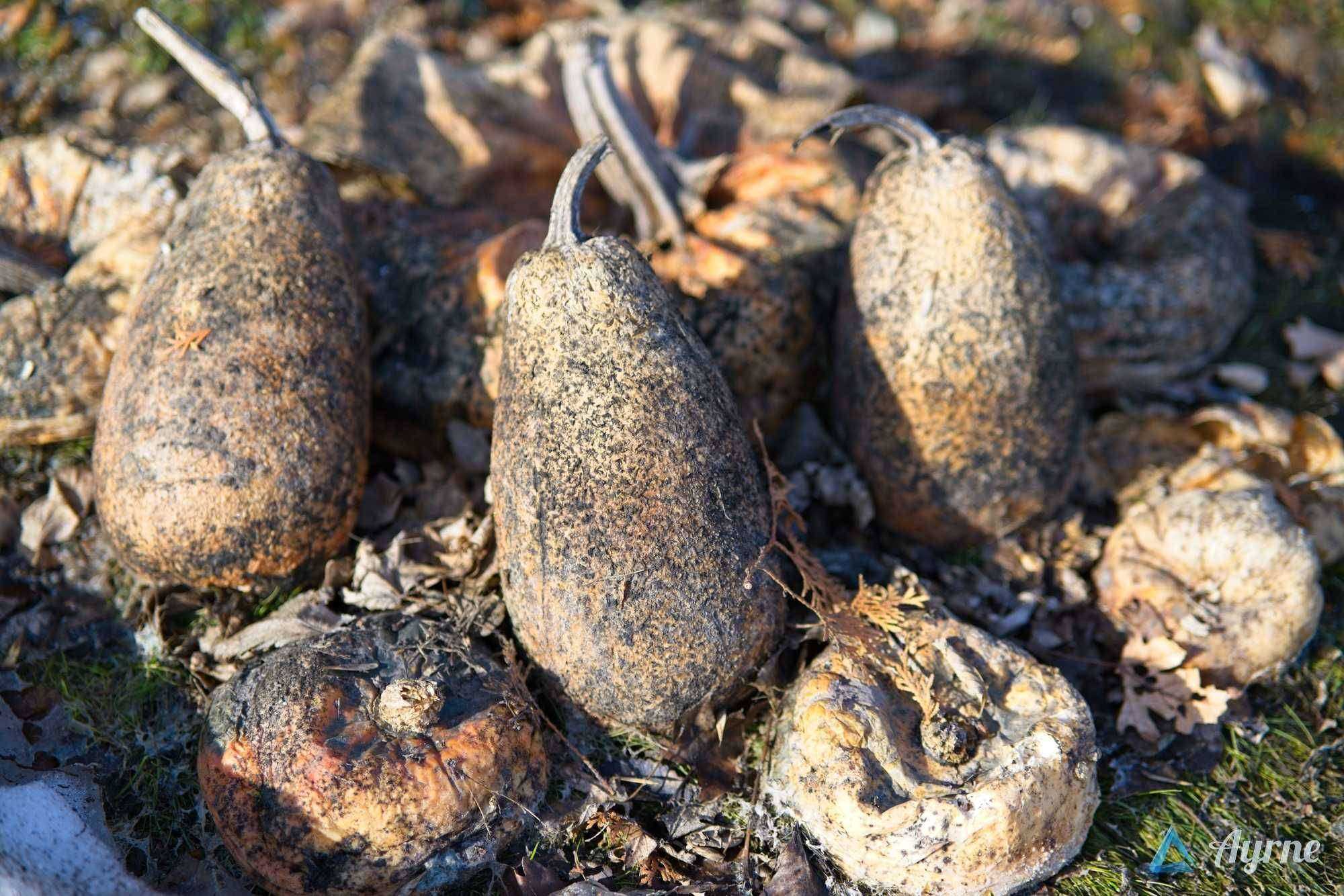 ---
Viltrox 85mm F1.8 Bokeh
While bokeh is a subjective thing, there's a general consensus among photographers that a smoother and less intrusive background is the desirable standard. In this regard, this lens really delivers by proving creamy background compression that effortlessly melts into the foreground. The bokeh balls produced by this lens are similarly excellent and are well rounded with only minimal orbital compression towards the edges of the frame.
Another thing worth noting here is that the minimum focusing distance is quite far on this lens - almost a meter (3 feet). I found that during a shoot at my daughter's concert, this made it quite difficult to capture shots of family members sitting beside me on the bleachers and I had to stand up and move back in order to capture images that were in focus. Besides being somewhat inconvenient in scenarios like this, the long minimum focusing distance makes this lens impractical for any kind of macro shooting and, to a certain extant, reduces the amount of bokeh that you're able to squeeze out of it at close distances.
Bokeh highlights
Background defocus and compression is creamy and silky smooth
Orbital compression is moderately pronounced at the edges of the frame, but not at all distracting
The minimum focusing distance on this lens is rather far, making it impractical for macro applications or extreme close ups that maximize bokeh.
---
Images of Viltrox 85mm f/1.8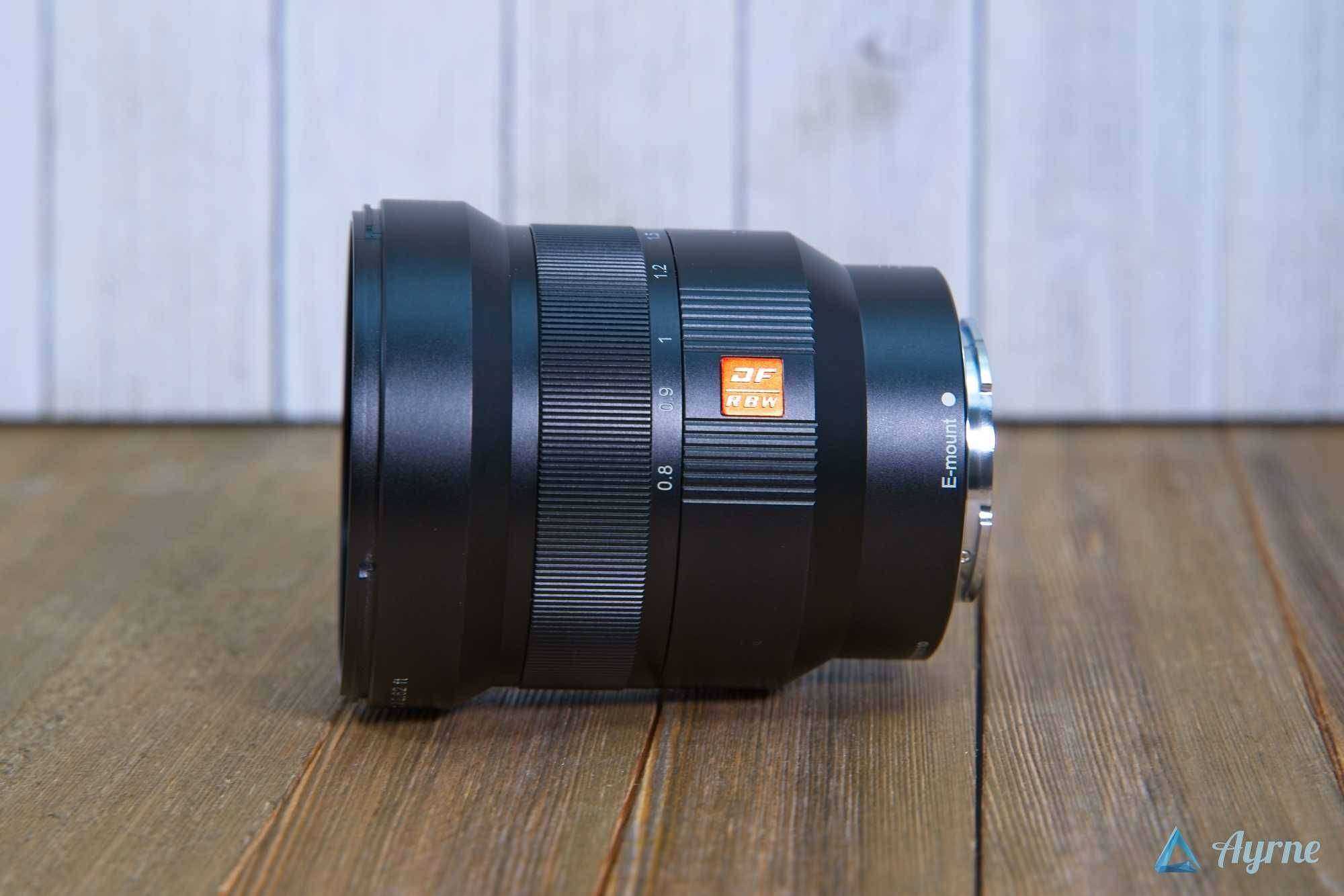 ---
Viltrox 85mm f/1.8 build quality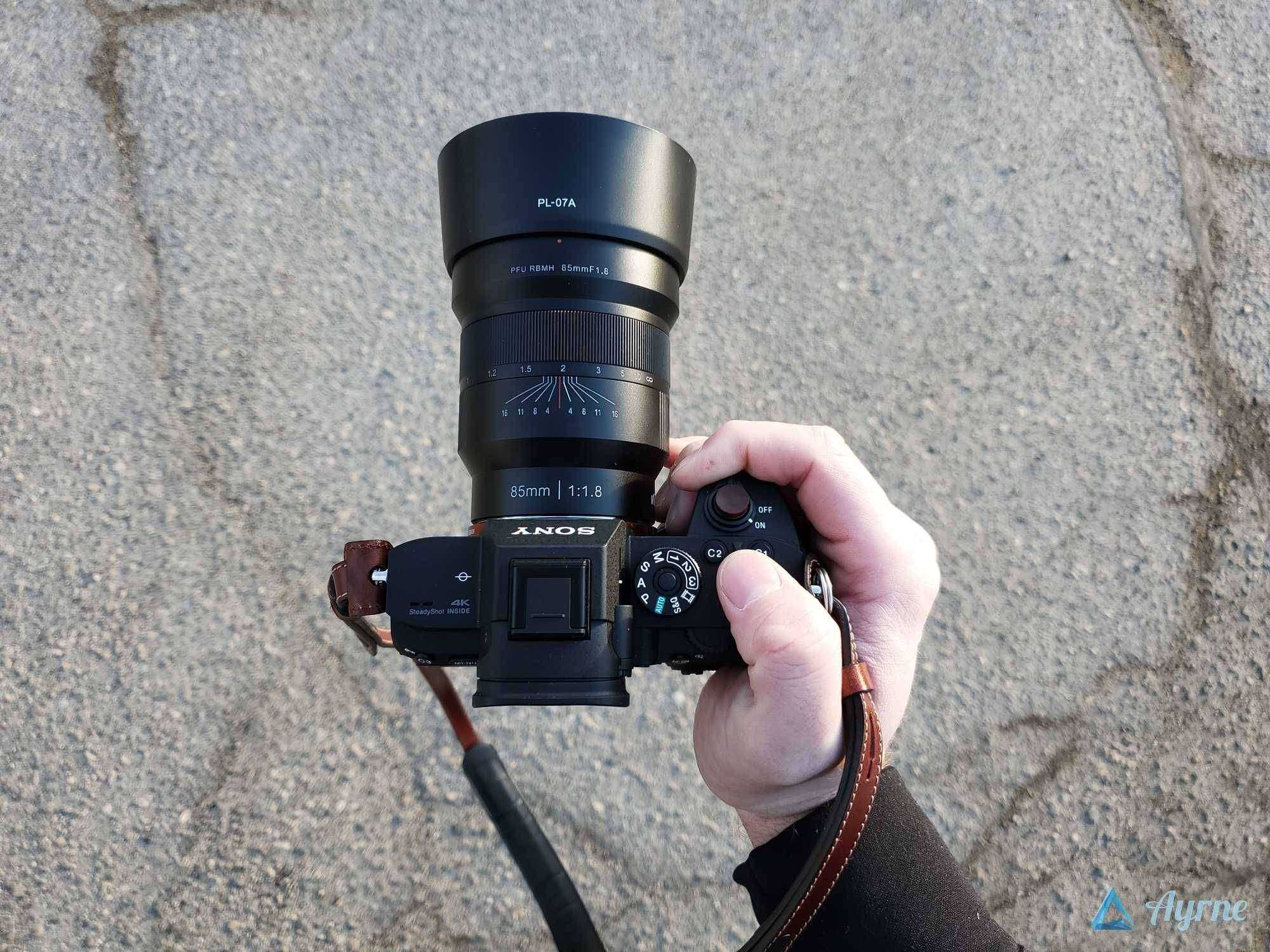 Build quality has to be the strongest point of this lens. It's near-literally built like a tank and it feels amazing to use and operate. The design is clean, aesthetically pleasing, and somehow feels both vintage and modern at the same time. Viltrox' careful attention to detail carries even further into the more subtle areas of lens design, with high quality embossed markings and one of the smoothest feeling focus rings I've used.
Although this is a decidedly heavy lens, it balanced surprisingly well on my A7r3 body, even without using my grip to offset it. Its handling is generally exceptional and the precision it operates with extends well beyond its current price point. Holding this lens in your hand, you feel confident - partially because of the build quality, but also because you secretly know you could use this beast of a lens to easily make your way out of a sporadic zombie-apocalypse, should it ever occur. The sheer heft of the lens also contributes to good kinesthetic feedback and leaves one feeling that they are holding a masterpiece of kinetic energy during use.
One thing that could have been better (at least in my mind) would have been a metal lens hood with etched markings to match the body of the lens. As things stand, the plastic one that comes with it and its painted markings is just fine by most standards, but I feel like something more enduring would have matched the all metal lens body better.
Build quality highlights
The build quality is exceptional and rivals some significantly more expensive lenses
Manufactured in China
The focus ring is buttery smooth and a dream to operate
Setting indicators are etched into the metal for long term durability
Beautiful, premium look and feel
Reasonably well balanced on my A7r3, even without the grip
What I would have loved
If Viltrox upped their current plastic lens hood to a metal one, this would be pretty close to a perfect offering
---
Viltrox 85mm F/1.8 focusing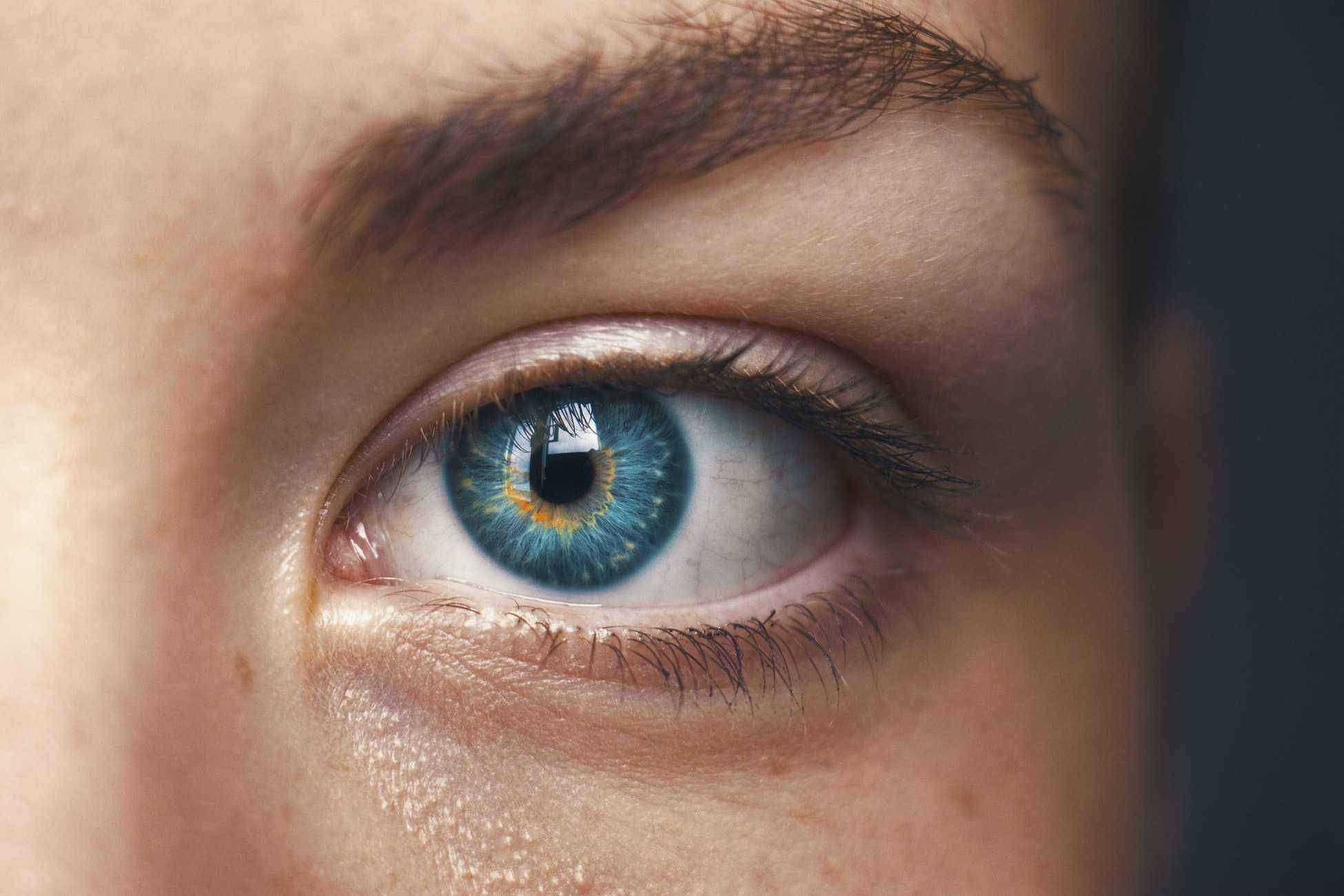 In general, the manual focus on this lens is about as good as anyone could ask for. The textured metal focus ring provides an exceptionally smooth experience and the 145.9° throw allows for precise focusing, even at closer distances where subtle nuances would be more noticeable.
Focus highlights
Smooth, enjoyable focusing experience
145.9° focus ring throw allows for precise focus, even at close distances
---
Viltrox 85mm f1.8 features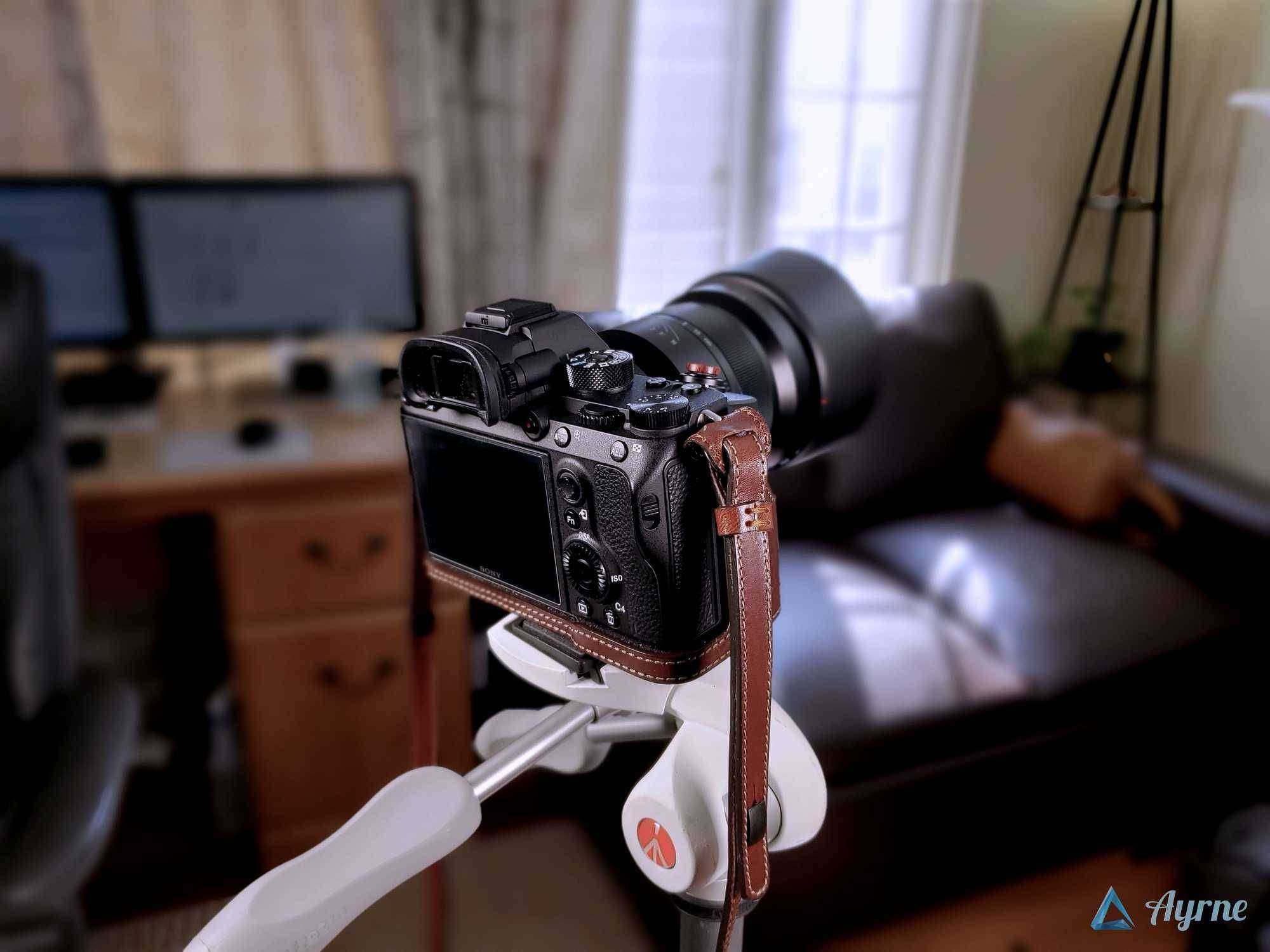 While this certainly isn't the first manual focus lens targeted at the Sony full frame camera market, Viltrox has taken a different approach with their design than other companies like Rokinon, Samyang, Voigtlander and Zeiss in doing away with a physical aperture control ring. I can't say I'm huge fan of this minimalist design decision, but when push comes to shove, I'd rather be able to control the aperture settings from the camera than than via a mechanical ring on the lens, so if I had to choose one, I'd go the same route Viltrox has with it.
Although lacking autofocus, this lens is in no way disconnected from Sony's camera ecosystem. In fact, it's kind of like a semi-automatic-lens with aperture control than can be automated from the camera body via an electronic iris and EXIF data transmission that takes place electronically. For those who are afraid to venture into the world of manual focus lenses, Viltrox has made it as easy and compelling as possible.
This lens features 9 rounded aperture blades in a special design configuration that Viltrox is calling "hypercircle." The well rounded iris, along with the fast maximum f/1.8 aperture, allows for beautifully spherical bokeh balls and beautiful background defocus.
The only mark Viltrox missed, feature wise (in my opinion), is the ability to perform updates via the camera body like Tamron's first offering for Sony full frame e-mount does. Instead, there is a micro-usb type-b port integrated into the lens mount itself. While it certainly gets the jobs done, the micro-usb cable isn't included and it's just one more item you'll have to dig around for each time you update the firmware. Since all of the portable devices in my home are micro-usb type-c, this will likely mean digging through the rats nest of peripheral cables I have sitting in a box in my attic when the first update is made available. As of the time of writing this article, I wasn't able to locate any firmware updates on the Viltrox site.
While it's certainly a subjective thing and just my opinion, I feel like having the focal length and f-stop values etched at both the top and the bottom of the same side of the lens feels redundant. I would have preferred that information appear only once.
Feature highlights
Transmits EXIF data to the camera body
Electronic automatic iris allows you to control the aperture via the camera body
9 blade hypercircle aperture help produce beautiful spherical bokeh
Ultra fast and bright f/1.8 minimum aperture that extends to an f/16 maximum
Lens firmware updates delivered by plugging a micro-usb type-b cable into the base of the lens
What I would have loved
Weather sealing would have been a great touch
On-body firmware updates would have been useful and simplified the update process
A physical ring for aperture adjustments would have given me the option of making adjustments from the lens as well as the camera body
The placement of "85mm f/1.8" on the same side of the top and bottom of the lens seems redundant. I would have preferred one or the other, but not both.
---
Optical Construction: 10 Elements in 7 Groups
While looking at the grouping and number of optical elements in a lens alone doesn't really tell you much about its potential image quality, it is an integral part of the physical composition of each lens and what makes it unique. I created the chart below based on the information that Viltrox has posted on their website to provide a visual demonstration of the optical composition of this lens.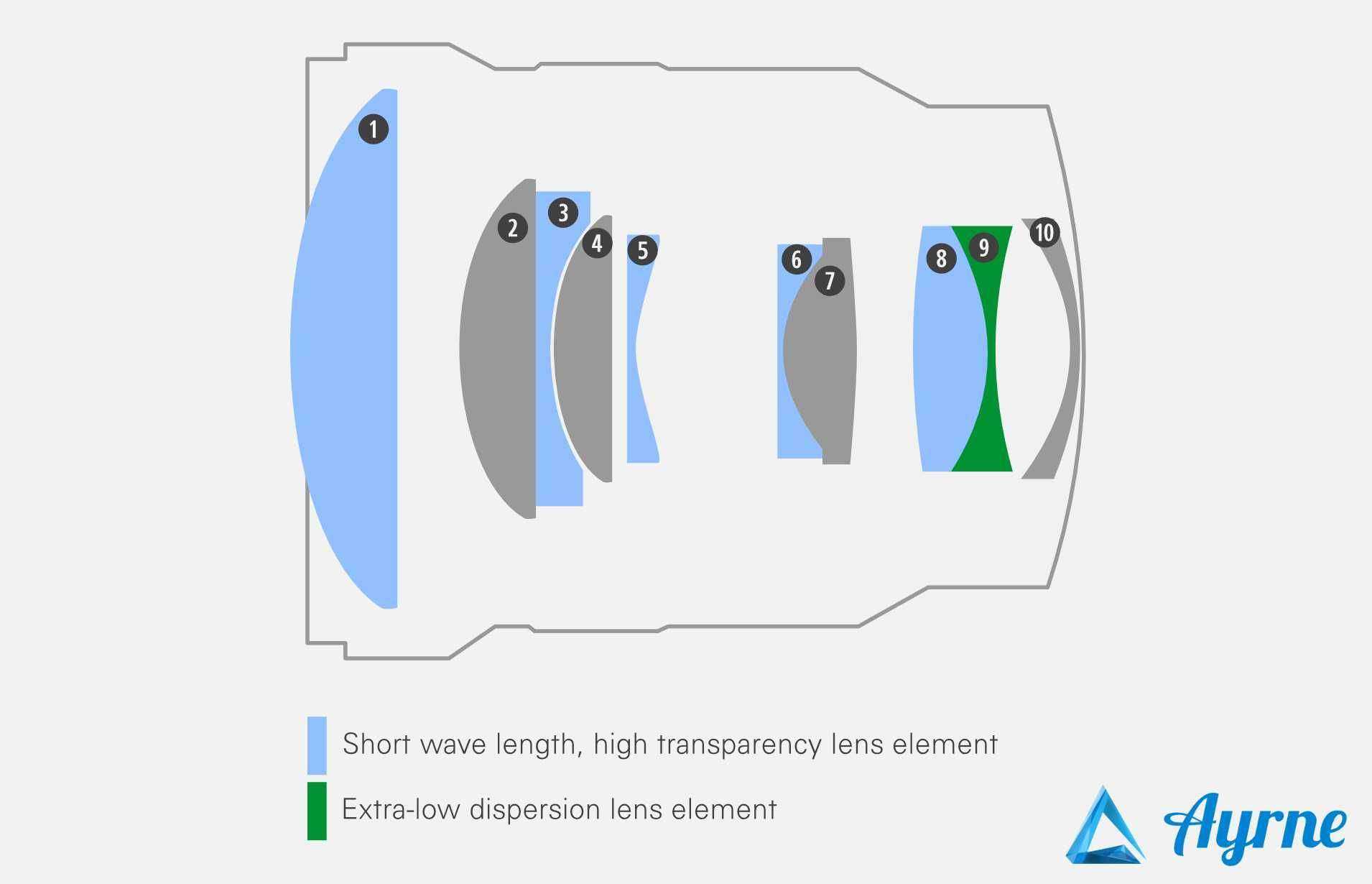 Large diameter, double-sided aspherical short wave length, high transparency front element
HD Nano multilayer coated optical element
Short wave length, high transparency optical element
HD Nano multilayer coated optical element
Short wave length, high transparency optical element
Short wave length, high transparency optical element
HD Nano multilayer coated optical element
Short wave length, high transparency optical element
ED (Extra-low Dispersion) optical element (fluorite glass)
HD Nano multilayer coated optical element
Optical construction highlights
HD Nano multilayer coated glass optics
ED (Extra-low Dispersion) optical element made from fluorite glass
Anti-fog and water resistant optical front element