Getting to Devils Tower
Devils Tower National monument lies in a remote area of the Wyoming Black Hills region, but is easily accessible via Wyoming Highway-24. Excellent accommodations can be found within 2 hours drive in locations like Spearfish or Rapid City, South Dakota.
Hiking from the parking area around the base of the tower will take about an hour. You'll find that the paths are well maintained, beautifully scenic, and not at all difficult to tackle.
As always, for those who wish to make things easy, here are the GPS coordinates for the closest access point to the tower: 44.590942, -104.720341. Throw those into Google Maps, and they'll guide you right into the parking area.
What's It Like?
The sheer massiveness of this structure is a big take-away for this destination, and it's something that can only really be experienced in person – to try and lend context though, I could tell you that on a clear day, you can see Devil's Tower from 20 miles away. But I came up with a better idea than that – I created a rather awesome graphic (below) that shows what the Empire State Building would look like if you plopped it right next to Devils Tower. How's that for context?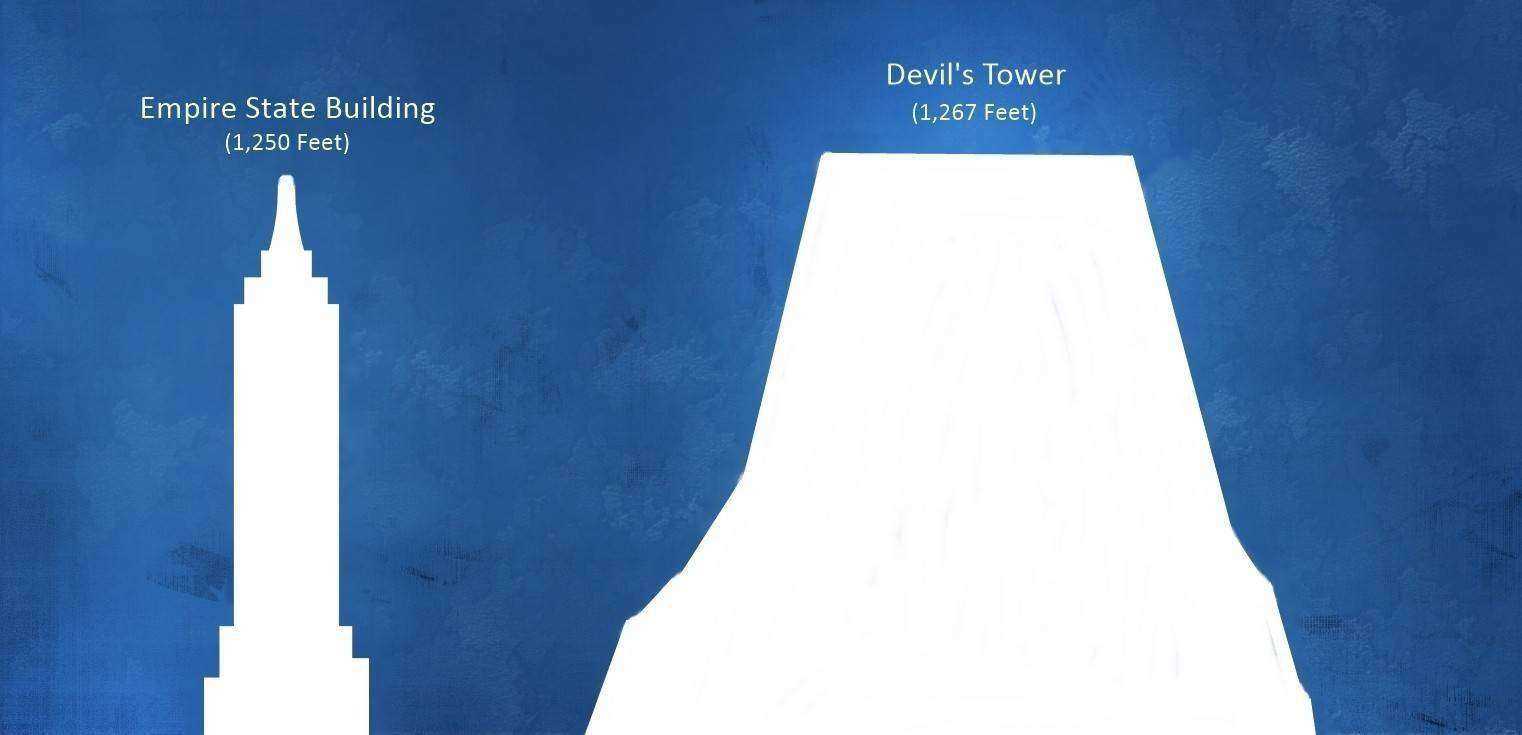 The trail itself carries you through scenery that ranges from the rugged beauty of massive fallen boulders and lofty crags, to lush forest and views of the winding Belle Fourche River far below.
The atmosphere of the place was quiet, serene, and inspiring when I was there. I visited in the early spring, right as the sun was setting, and was surprised to find that I was one of only a few people hiking the trail at the time. Annual visitor estimates suggest that as many as 400,000 people pay homage to this wonderful destination yearly.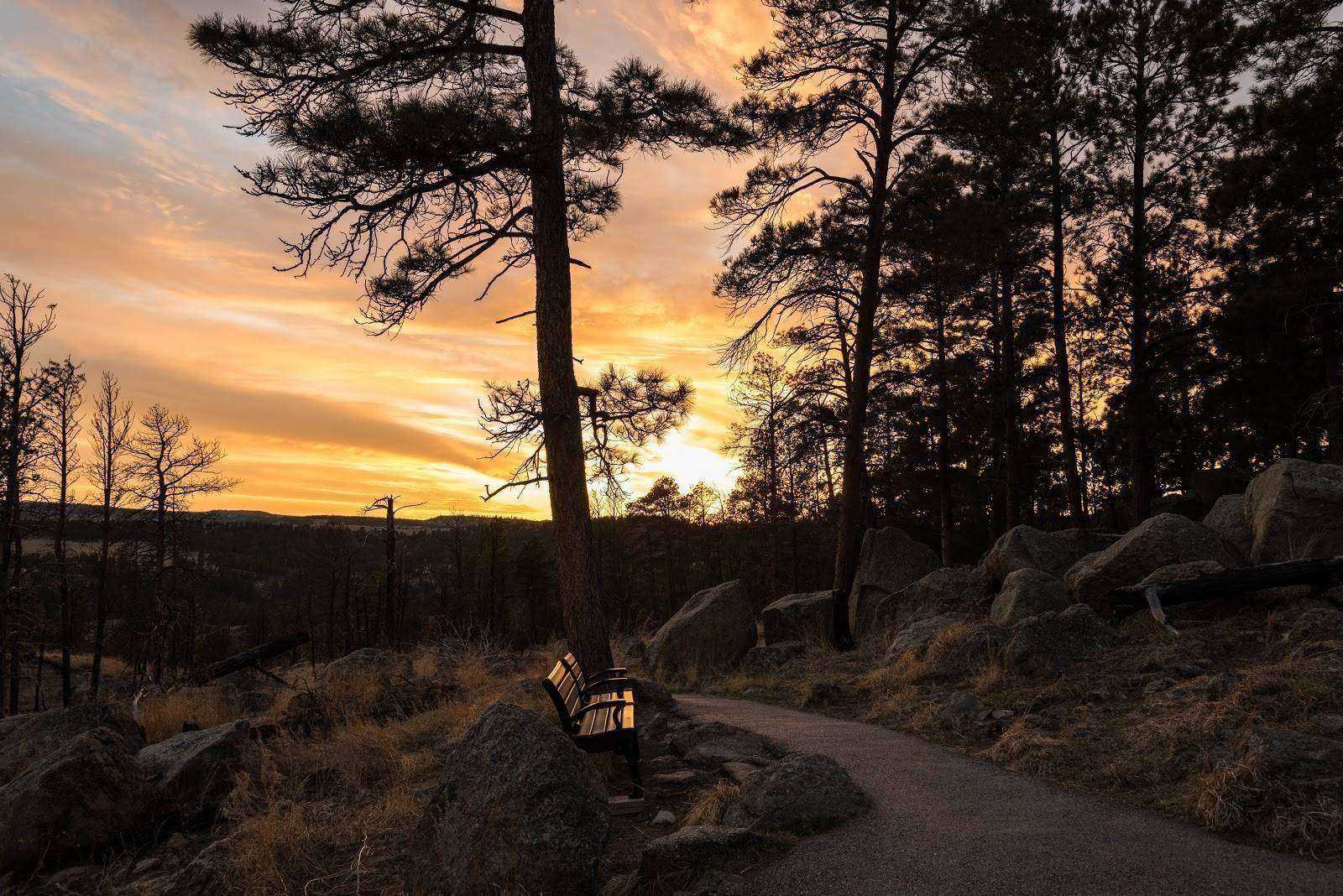 THE HISTORY OF DEVILS TOWER
Devils Tower officially became a National Park on September 24, 1906 under the authority of no-one less than President Theodore Roosevelt.
This place is called "Matȟó Thípila" ("Bear Lodge") or "Ptehé Ǧí" ("Brown Buffalo Horn") by the Lakota Natives, a name which long predates its current title. Given its fantastic presence in the region, it's not surprising that the tower was called a lot of other things by quite a few other Native tribes, many of which even predate the Lakota in the region, but to keep this short – most of the terminologies assigned to this place basically translate into something involving bears.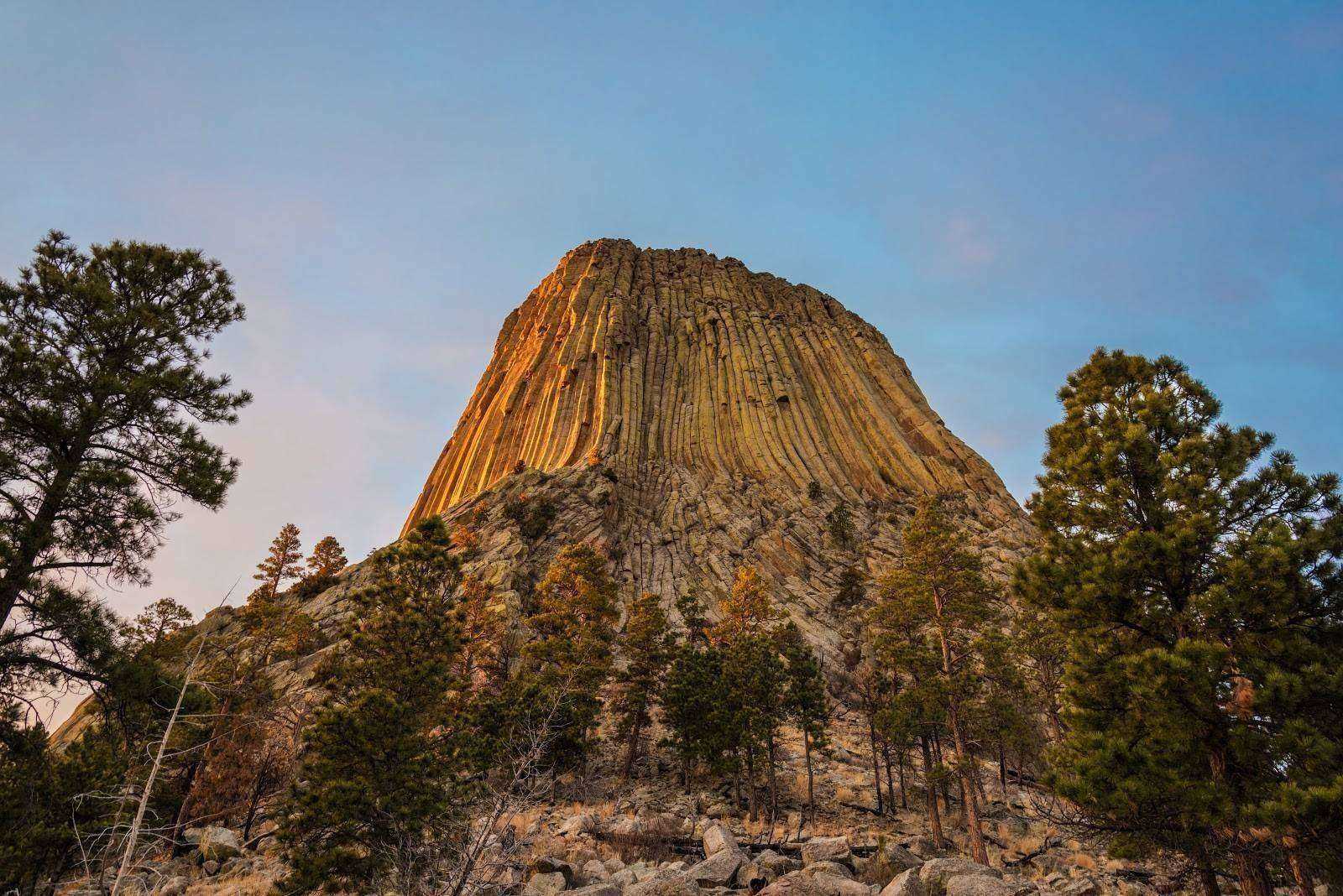 The reason so many Native designations involve bears, is that there is a beautifully creative lore surrounding the monument. The story has many variations, but the basic plot is fairly similar – two young men (or women) were fleeing from mighty bears. In desperation they threw themselves down on a stone in the wilderness and prayed to the Great Spirit God for safety. The Great Spirit God heard their prayers, and spared them by raising the stone high into the air and safely out of the reach of the bears. The iconic fluted columns are said to have been made by these mighty bears as they clawed the sides of the stone during its ascension.
The current title of this place, was in fact, a misnomer made by a translator who told Col. Richard Irving Dodge that the Natives were calling it "Bad God's Tower" (which we all know they weren't), but let's face it, the guy probably had a few too many puffs on the peace pipe during their meet and greet.
Clearly this put the fear of god into Richard, who I can only imagine, staggered backward in shock and exclaimed with a look of horror and revelation – "my god, we've stumbled upon the devil's own tower…the devil's tower." It is apparent that he talked about this a lot thereafter and that word of a tower with a highly bad-ass-sounding Native designation spread rapidly. And that's been its officially designated title ever since then.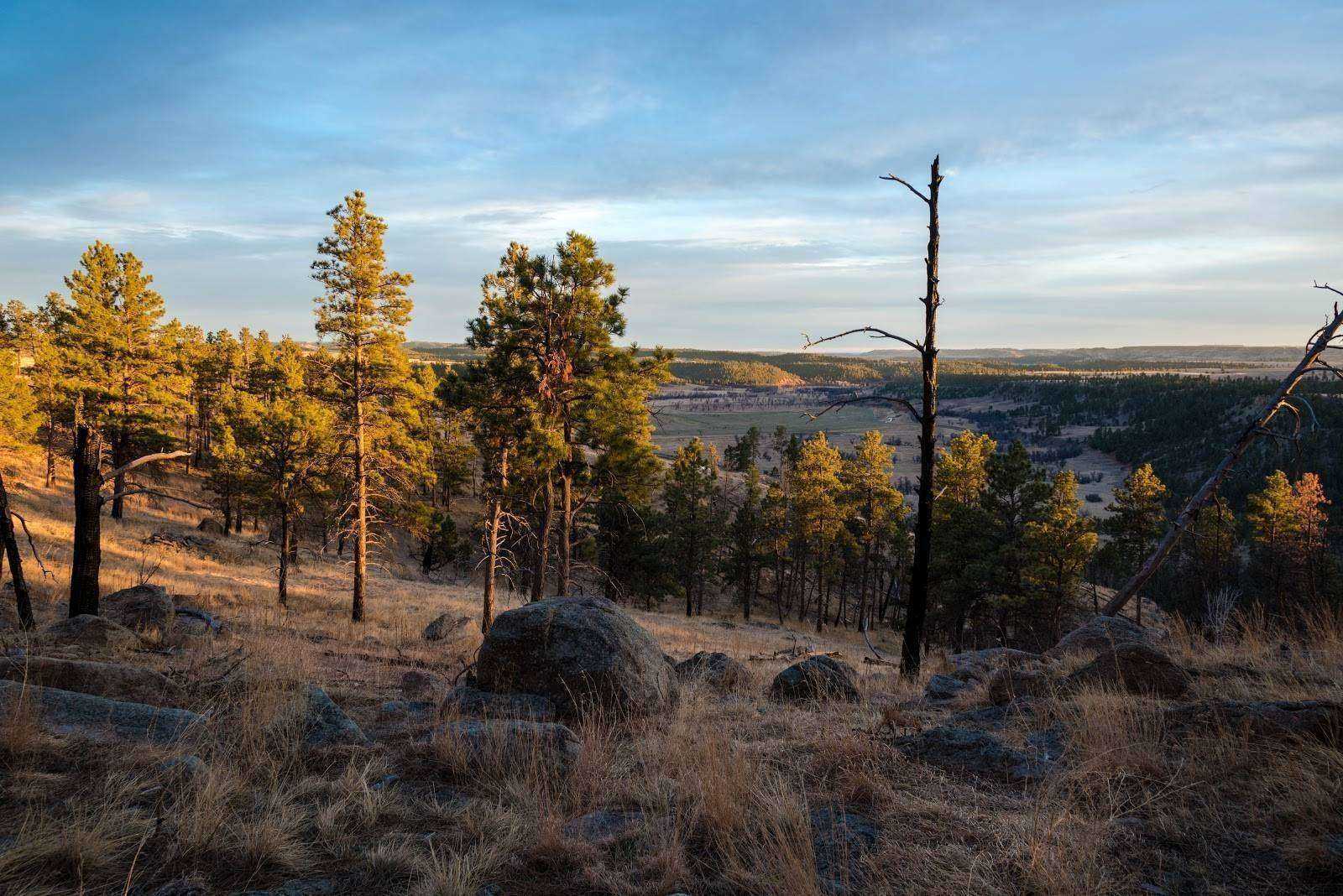 IS IT WORTH IT?
You bet it is! This place is truly unique and totally worthwhile. From inspiring legends among the Natives to gaining the admiration of a US president, Devils Tower has been wowing crowds since history started recording its existence.
I'd definitely recommend it. If you stay in Spearfish the night before, you can start your morning with a fantastically scenic drive through Spearfish Canyon, and Hell Canyon on your way to this one-of-a-kind destination.
As always, never forget that life is short – live it fully, love deeply, travel much, and be kind to your fellow beings.