This article contains affiliate links, for more information, see the disclosure here. Thanks for your support!
A while ago I wrote about the best payment options on musical instruments without a credit check. We compared 4 of the leading options and identified what I consider to be the absolute best option for people with bad credit, or even those with stellar credit. I also put together a massive list of stores that offer financing on musical instruments.
Whether you're a seasoned pro or a parent looking to help your child discover the magic of piano playing, it's really important to have a great instrument that can not only convey your talent, but help you grow. As someone who's a been concert pianist, studied with some of the greats like Valentina Kotko, Samuel Hsu, and Meng-Chieh Liu, I can't stress enough how important having a good practice instrument really is.
While many people think that a first piano can be an inexpensive one, your first piano is actually the most important instrument you'll ever own. Why? Because a piano that has a bad action or is our of tune can seriously damage your ability to learn the nuances that are required to play like a professional. As a beginner, these bad habits and misconceptions will become deeply instilled in your sense of playing and understanding the piano and are likely to continue to hamper your ability for the rest of your journey.
Here's where digital pianos are very useful – they're always in tune, quite affordable, and if you get a decent one, the action should be very similar to that of a real grand piano. Be sure to look for things like "scaled hammer action" and weighted keys on your purchase, because it prepare you for playing real pianos in scenarios like concerts without any transitional difficulty. I'm personally a fan of Casio's higher-end Privia Pianos and their Celviano line. I've owned a number of both of these and currently have a Privia PX-850 in my home.
For people with less than ideal credit, I've found a great music supplier that I love working with, they're called zZounds. I've bought everything from microphones and gear for my recording studio to my latest digital-piano from them. In fact, they carry virtually any instrument you can think of and offer zero-interest-payments on nearly everything they carry.
If you want to learn more about the company and why I choose them over others, please check out my in-depth comparison here.
Otherwise, simply click the big blue button (below) to visit the zZounds website. You can currently add up to $1,000 in qualifying merchandise and select the 4-payment option to get the 4-payment option without any credit check.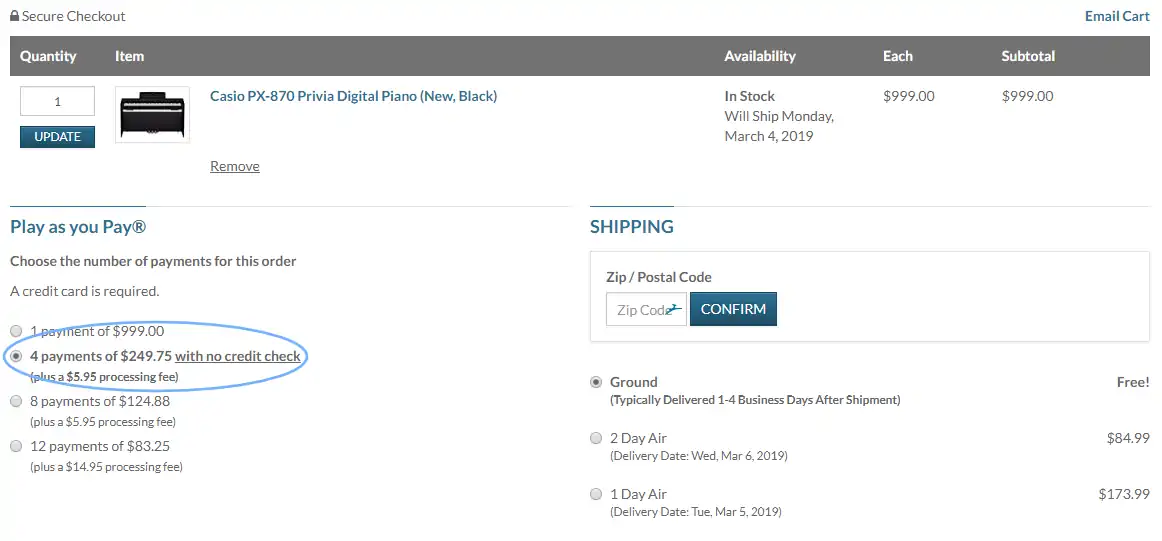 Please also feel free to check out my video demo and review of Casio PX-850, right out of the box from zZounds or my SoundCloud page where I post all of my musical ramblings.