This article contains affiliate links, for more information see the disclosure here. Using these links won't cost you a thing, may save you money, and it helps us to keep putting out great material for you to read while remaining ad free. Thanks for your support!
---
In a world that's overloaded with companies trying to entice you into taking credit so they can charge you out the yin yang with crazy interest rates, zero-interest-financing is no common thing to encounter. As a serious musician who also happens to be a techie, I decided to do some in-depth research on store credit, credit cards, and payment options for musical instruments and gear.  If you want to see who I chose as the best financing option for music gear, scroll to the bottom of this page for the company info and link to their website. You may find my research is well worth a read though.
Comparing Store Credit, Credit Cards, and Payment Plans
I found quite a few musical instrument retailers offered interest free financing options, in fact, I wrote an article that lists over 20 of them, but many of these options come with catches or require very good credit. A common thing be aware of is store credit cards with an "introductory" financing at 0%. Sure, they'll get you in the door with at 0%, but once the introductory term ends, prepare for high interest rates and interest that is charged retroactively back to the date you made your purchase.
The alternative option I found is to finance directly through the distributor via a payment plan. But here's the underlying problem – most companies that offer payment plans get you with jacked up pricing. They'll extend fantastic payment options, you'll pay no interest whatsoever, but believe me, you'll pay for it with jacked up pricing on your gear.
Ultimately, it seems like just about no one is going to let you walk away with a $10k guitar on your tab without slamming you with high interest rates down the road or ripping you off with crazy prices.
But there's hope and if you look at the chart below, even overpriced gear can be a pleasant alternative to high-interest rates. By why settle paying any interest if you don't have to? Why pay more if there are competitive interest-free options out there? I found 4 companies with incredibly low financing fees on their payment plans. How low? As little as $3.95-low. They're also constantly showing up in the lowest price range on Google's shopping comparisons. I stacked these 4 companies side by side to identify what I personally consider to be the best overall option for payment plans.
Payment Plans Appear to Be the Obvious Choice
To demonstrate why payment plans are easily the best choice for your wallet, I created the chart you'll see below. Through this chart I compare the total finance charge on $10,000 of music gear and what you'd pay with each option over a 12 month term. I think this really helps drive home why payment options are the way to go. And even more exciting, the winner of my comparison not only offers great prices, per their website, they guarantee to not only meet, but beat pretty much any other price out there.
If you see a lower, publicly advertised delivered price, we'll beat it. If it is within the 45 days after your order ships, we'll refund you the difference.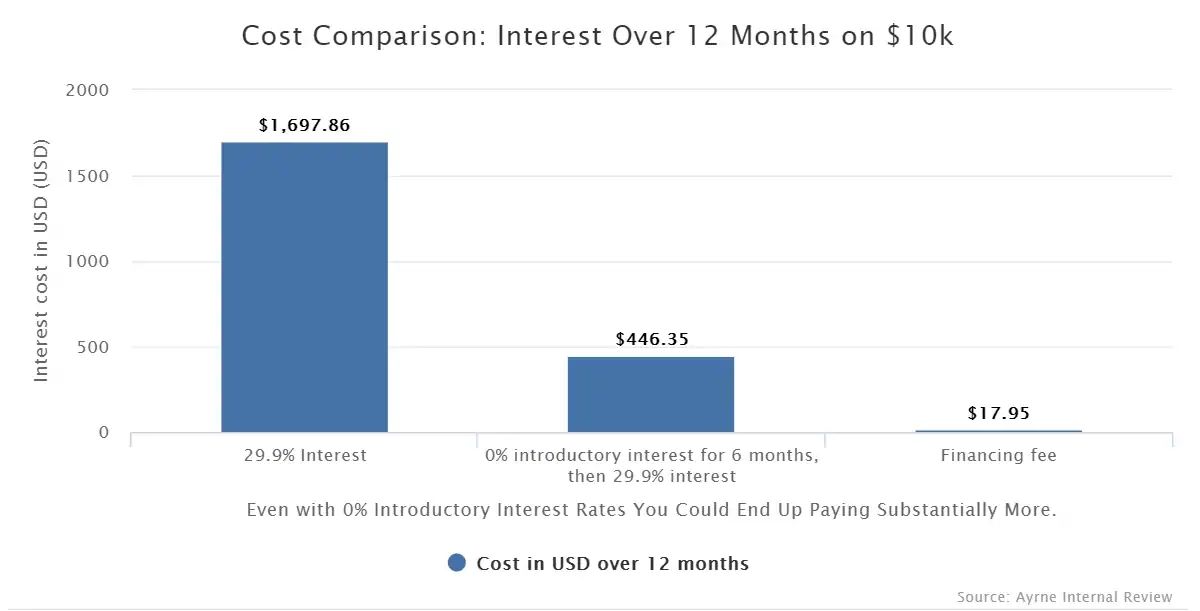 Even with 0% Introductory Interest Rates You Could End Up Paying Substantially More. So let's get to the chart now. Say you finance a new high-end guitar and amp and wind up with $10k worth of gear in your cart. What are you going to wind up paying in the long run? For my calculations, I use what I found to be the most common interest rate charged by musical instrument dealers on store credit cards. The rate is 29.9%. I also found introductory offers for 6 months at zero interest. This is represented in the second bar of the graph. So how much will a payment plan save you against a music store line of credit with 29.9% interest? $1679.91 – that's how much it'll save you! Even with the 6 month introductory offer of no-interest, the remaining six months of the term rack up a breathtaking $446.35, making the payment plan option a still heavy $428.40 cheaper than in-store credit.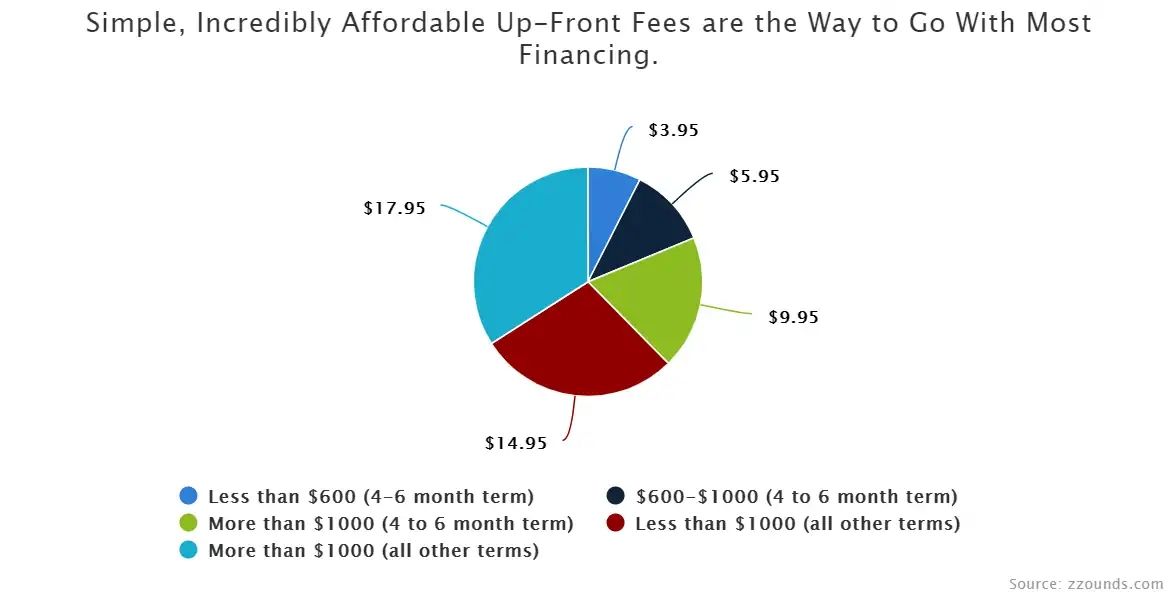 Not only is my top choice for zero interest musical instrument financing incredibly wallet friendly, it's also one of the top ranked musical instrument venues out there. BizRate gives them a nearly unprecedented 9.5 out of a possible 10 stars for overall customer satisfaction. 9.6% of visitors say they'd recommend it to a friend and 9.5% say they'll shop there again.My top choice for payment plans, which we'll talk about more shortly, charges a one-time financing fee that ranges from $3.95 – $17.95 depending on the price of your order and duration of your payments. Depending on how much you borrow, the fee could be as low as $3.95.
Who I Choose as the Best of the Best
So what is my top choice for getting awesome music gear at the best price without paying any interest? It's a US company called zZounds. I've personally bought many items from them and have nothing but praises to sing for the company. Their support is always knowledgeable and home grown. Shipping is free on most items and since they only have a few locations for their massive warehouses, most people shopping online won't pay tax on their purchases either.
Update, 01/30/2017: zZounds has actually lowered their financing fee, added tiers, and made a six payment option available. They've also lowered the qualifying spend amount to just $59. This makes their payment plans more competitive than ever! I'm including a chart below with the updated fees for financing in each tier.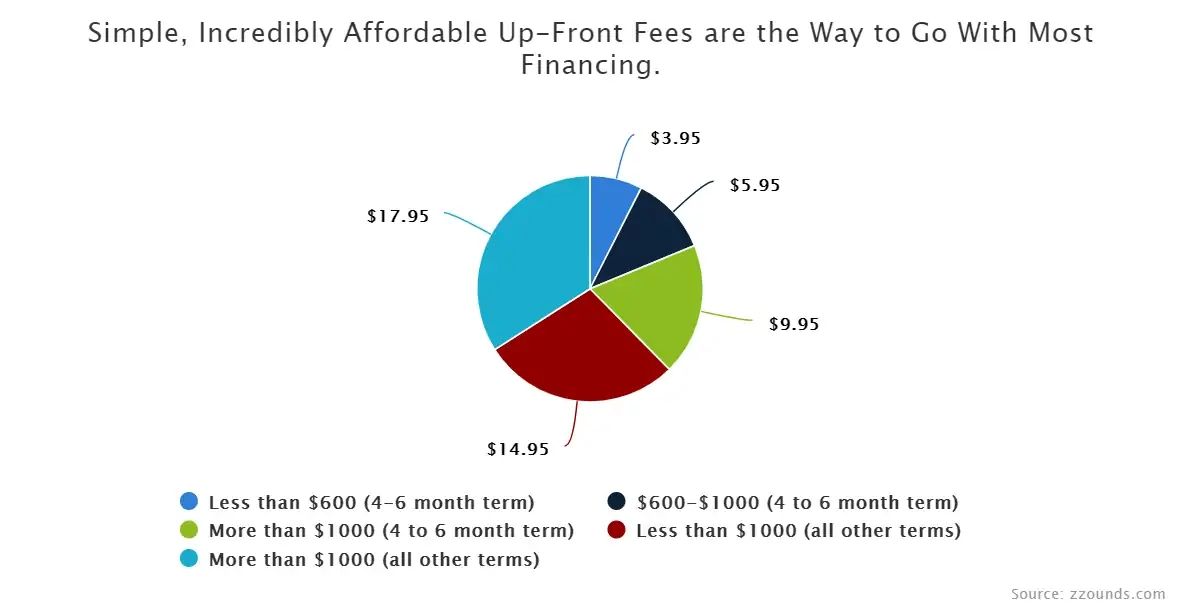 As you can see, zZounds has really upped their game with their new pay as you go pricing. Here's the updated list of available payment options. Please note that only the 4 payment option on $59-$1000 is currently available without a credit check.
| | |
| --- | --- |
| Current Payment Plans Available | Credit Check? |
| 4 Payments with no credit check on most products between $59-$1000 | No |
| 6 Payments available on most orders totaling over $249 and up to $3000 | Yes/No (see offer) |
| 8 Payments on orders totaling up to $3000 | Yes |
| 12 Payments on orders from $3000 to $4000 (see individual product pages for details) | Yes |