This article contains affiliate links, for more information see the disclosure here. Using these links won't cost you a thing, may save you money, and it helps us to keep putting out great material for you to read while remaining ad free. Thanks for your support!
---
About
Lens model: Auto MC 28mm f/2.8 lens (M42 Mount)
Brand: Promaster (PRO group) / Focal (Kmart)
Mounts: M42, Olympus OM,
Release date: Circa the 1980s
At a glance: The Promaster Auto MC 28mm f2.8 lens offers a astonishingly bad overall image quality, but can be a compelling value proposition for those looking to buy a wide angle lens with money they find at random on the street. This lens also has very real paperwight potential, although that probably wasn't the intent of the manufacturer.
Our score: 3/10
Where to buy: Amazon, ebay
---
Similar options to consider
Rokinon /Samyang 28mm f/2.8 M.C (much better optics for a moderately higher price)
---
At a glance
This lens was widely produced and sold under the brand names "Promaster" and "Focal" in the 1980s. It's among the softest wide-angle lenses I've ever tested at this focal range with the exception of the  and, optically, there's virtually nothing impressive about it outside of its terrible sharpness, crazy chromatic aberration, wild looking bokeh, color rendering gone full on Rambo, gawd-awful contrast, and overall crap image quality.
Who manufactured it?
Knowing that Promaster typically teamed up Tamron and Sigma as a re-brand manufacturer, there's the temptation to attribute this optical monstrosity to one of them. However, this lens is a radically different sort of beast than any of the high quality, low price-point Promaster-Tamron or Promaster-Sigma lenses I'm familiar with. Given that Kmart also sold this lens under the Focal brand name and did not use Tamron or Sigma as a re-branding partner almost ever, I'm going to put my money on this lens being the product of one of their usual partners in crime - Cosina or Haking.
Let's look at this on the bright side
On the flip side, this lens can often be had for less than $10, so the cost to performance ratio could be compelling to those looking to start with an insanely cheap wide-angle that can be retired as a glorified paperweight. The novelty of how terrible it is could also be considered a major selling point...maybe. One additional up side to this lens could be just how good everything else you've ever shot on is going to feel by comparison after you're done with it.
Promaster/Focal MC Auto  28mm f1:2.8
Terrible perceptual center sharpness, unimagineably bad sharpness at the edges
Magically transforms colors into those of an alternate universe
Solid all metal body construction (the one good thing this lens has going for it)
Heavy distortion
Very, very bad chromatic abberation
Soft accross the frame wide open at f/2.8, acceptable at f/8, best at f/11
Distracting bokeh
Best suited for landscape and architechtural photos where the end goal is to have an otherworldly look that can't be corrected in post
PROMASTER AUTO MC 28mm f1:2.8 Wide-Angle Vintage Lens (Images)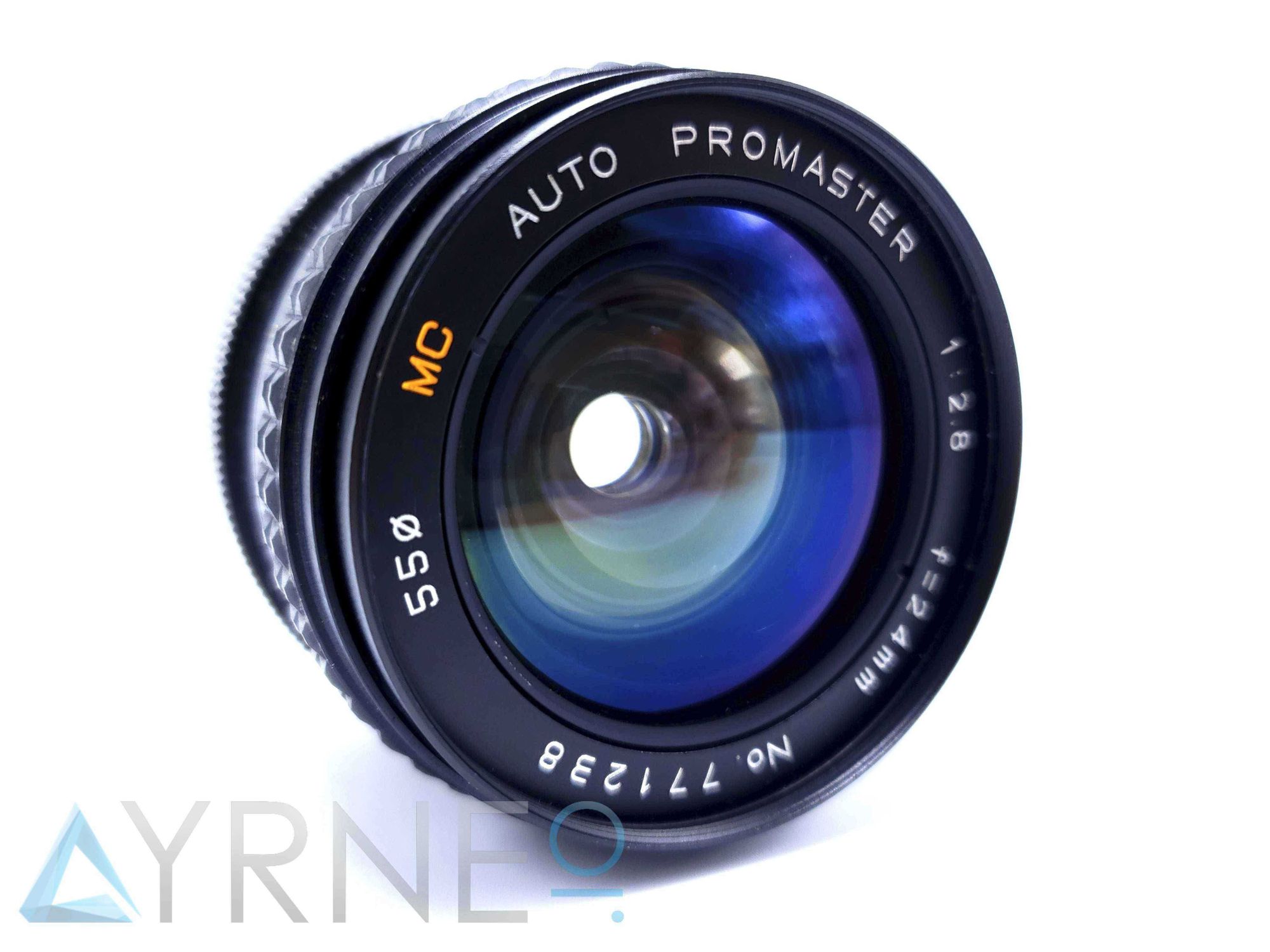 Technical Specifications
| Feature | Specification |
| --- | --- |
| Focal Length (35mm format): | 28mm |
| Maximum Aperture: | f/2.8 |
| Minimum Aperture: | f/16 |
| Mount format: | M42 Universal Screw Mount |
| Format: | 35mm Film |
| Angle of View (35mm format): | 75° |
| Focusing Distance: | 0.29m to Inifinity |
| Elements/Groups: | 5 elements in 5 groups |
| Number of Blades: | 8 |
| Focus type: | Manual Focus (MF) |
| Filter size: | 55mm |
| Manufacturer: | Unknown |
| Country of Manufacture: | Japan |
| Weight: | 290g |
Our Take on the Promaster/Focal MC Auto 28mm f/2.8
| Feature | Rating |
| --- | --- |
| Image quality: | Awful |
| Bokeh: | Awful |
| Build quality: | Good |
| Handling: | Good |
| Micro contrast: | Awful |
| Ergonomics: | Good |
| Center sharpness wide open | Awful |
| Edge sharpness wide open | Awful |
| Chromatic abberation | Awful |
Equipment
The product images were captured using a Samsung Galaxy Note 9