This article contains affiliate links, for more information see the disclosure here. Using these links won't cost you a thing, may save you money, and it helps us to keep putting out great material for you to read while remaining ad free. Thanks for your support!
---
Earlier, I wrote an article on how to get musical instruments & music gear on a payment plan with no credit check.  Of course, as a serious musician, I've bought a ton of stuff ranging from digital pianos and guitars to mixing boards, pro mics, stands and cables. I've done a lot of trial and error and developed a definite preference for where I buy my gear. In my opinion, zZounds is pretty hard to beat. They have consistently awesome customer support and service, awesome prices, awesome sales and financing with no interest that you can get with no credit check. So anyway, here's my itemized list of why I think they're the best.
#1 – zZounds has a truly epic selection of studio condenser and dynamic microphones.
#2 – Right now, zZounds is offering recording artists payment plans with no interest and no credit check.
#3 – zZounds guarantees the best prices out there – if you find a better price (even up to 45 days after you buy your guitar) they'll beat it!
#4 – Well over a 37,000 screaming fans currently give zZounds a quasi-perfect 4.8 star rating on Google Shopping!
#5 – You get free shipping on many orders and most customers don't even have to pay tax.
Getting financed is easy, just go to www.zzounds.com, look for the "Play as you Pay" icon next to the guitar you're scouting and tick the payment plan you want at checkout.  Happy shopping!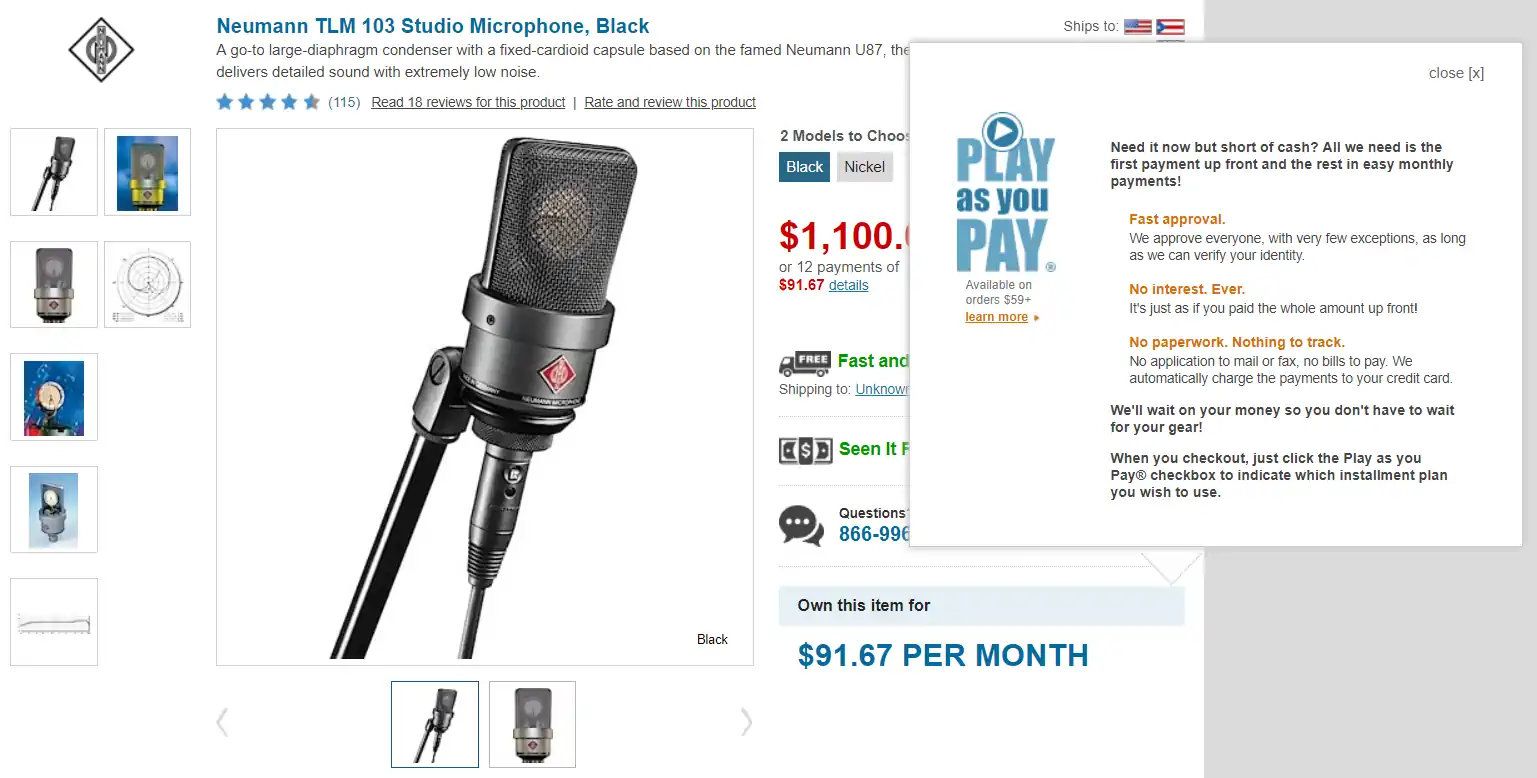 Update, 01/30/2020: zZounds has actually lowered their financing fee, added tiers, and made a six payment option available. They've also lowered the qualifying spend amount to just $59. This makes their payment plans more competitive than ever! I'm including a chart below with the updated fees for financing in each tier.
| Order Total | 4 or 6 Payments Processing Fee |
| --- | --- |
| Less than $600.00 | $3.95 |
| $600 to $1,000 | $5.95 |
| More than $1,000 | $9.95 |
| Order Total | All Other Payment Plans |
| Less than $1,000 | $14.95 |
| More than $1,000 | $17.95 |
Their plans have gotten even better too! Here's the updated list of available payment options. Please note that only the 4 payment option on $59-$1000 is currently available without a credit check.
|Current Payment Plans Available|
|-|-|
|4 Payments with no credit check on most products between $59-$1000|
|6 Payments available on most orders totaling over $249 and up to $3000|
|8 Payments on orders totaling up to $3000|
|12 Payments on orders from $3000 to $4000 (see individual product pages for details)|
If you'd like to check out more options, have a look at this extensive list of musical instrument financing options I put together.