Buying an acoustic guitar can be a daunting task. To aid you in your quest, we've created this nifty guide with the aim to provide you with all the fundamental information you'll need to know in order make the right decision on your import purchase.
Guitar playing can be hugely rewarding. For some, it's simply a way to unwind by connecting at a fundamentally deeper level with something that's beautiful and creative. For others it can be a career path that may even lead to stardom, allowing the lucky few to leave behind a tiny mark that will carry on to inspire future generations of listeners and artists alike.
The idea that many people benefit by playing a musical instrument like a guitar is more than just hearsay, for example, Live Science reports that playing a musical instrument can have an amazing array of benefits ranging from reduced stress levels and overall better life experience to keeping your brain in tune for better cognitive performance later on in life. With this in mind, before we get into the technical aspects of purchasing a guitar, I think it's important to look at buying a guitar, not as a mere trivial thing, but as a important investment in one's self or in someone that you care about.
Working out your budget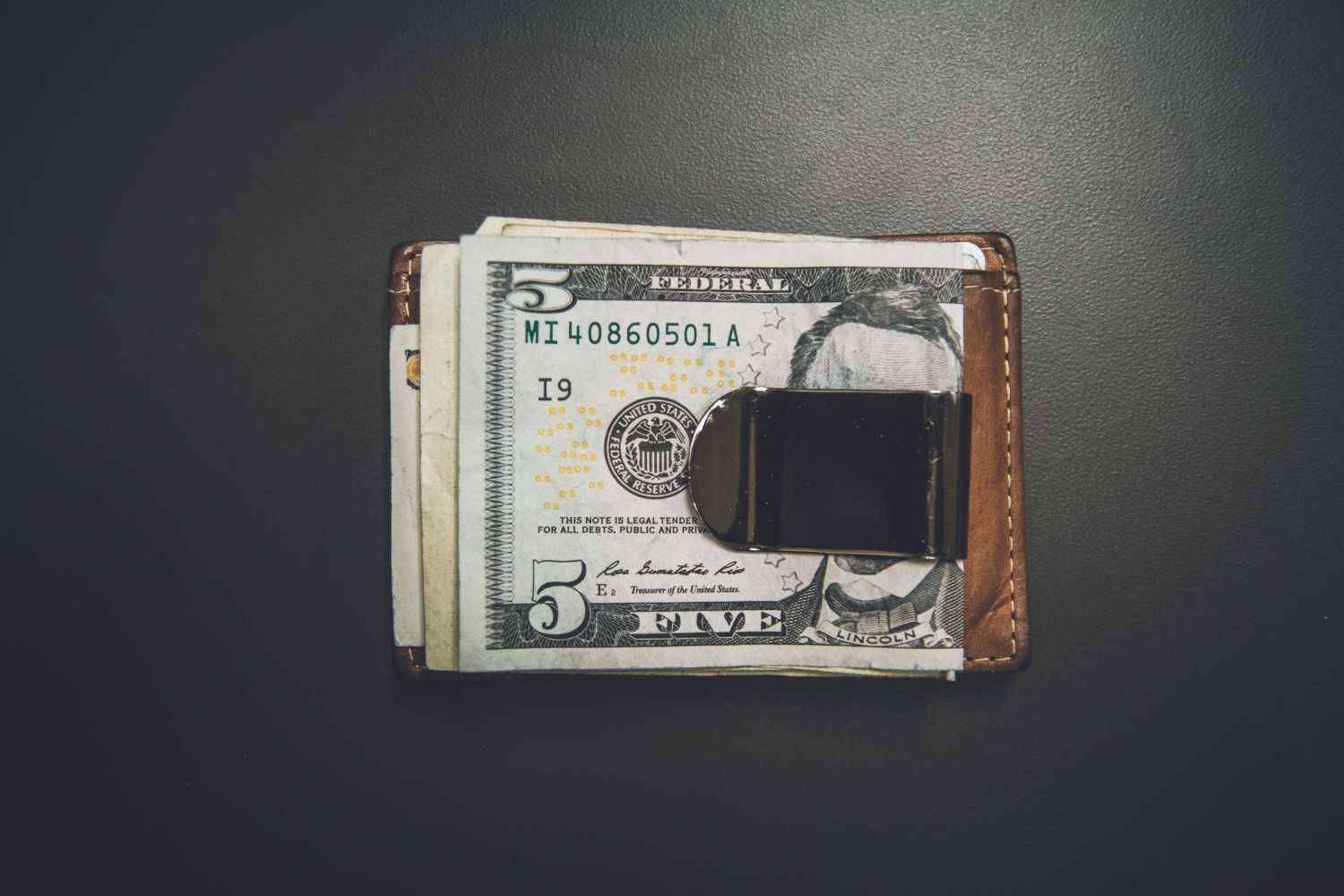 Before anything else, it's important to work out a budget for your guitar buying venture. Figure out what's reasonable for you to spend on your purchase and stick to it. If you need to expand your budget, consider zero interest financing as an option. Also, keep in mind that getting a great guitar doesn't necessarily mean getting an expensive one. Sorting guitars priced highest to lowest and throwing the one at the top of the list into your shopping cart probably won't make you happy, but knowing what you're looking for most likely will. If you're a savvy buyer, you can get a heck of a lot of guitar for just a bit more than a mass produced instrument will run you and hopefully skip all the headaches and drama that you might otherwise have to contend with. This is exactly why it's important to educate yourself before pulling the buy trigger.
Getting the best value
If you're willing to forgo the instant recognition of big brand names, this is a great time to get amazing value for your money. If you're on a budget or just want to try something unique, my recommendation is to consider buying a hand crafted instrument that's made from high quality materials and sourced from a small to medium sized guitar maker – I go deeper into this subject later on in this article.
If you're not too picky and are willing to compromise a little on sound quality and build materials, there are tons of mass produced off-brand guitars you can consider these days. Just keep in mind that you may not enjoy the same level of quality assurance or shelf life with some of these models. If you're going to take this route, I highly recommend looking for an off-brand guitar with loads of reviews to give you a good background on the instrument before you purchase it. With a bit of luck, this can be a good money saving option.
Buying a used guitar can be a great way save money without sacrificing on the quality of your purchase. Online venues like ebay abound with used guitars as do sites like Facebook's marketplace and Craigslist. You might also consider checking at local flea markets and garage sales. You never know what sort of treasure you'll find if you search hard enough. There are few things you should keep in mind if you're going to look for a used musical instrument though. Remember that a used guitar is much more likely to have wear and tear – even if it looks great aesthetically. You might need to invest a bit more money after buying a used guitar to make sure it's had all of the proper maintenance it needs to sound good and will be enjoyable to play.
Another way to save money on a guitar purchase is to buy an open box or display model. Many musical instrument retailers will mark down guitars that have been used to showcase the product. Just keep in mind that in many cases, these guitars have also been demos, so they may be closer to a used guitar than a new one.
You may also be able to obtains significant savings by choosing to buy a blemished guitar. Many blemished guitars are still completely usable and some small scuffs, marks, or dings may be barely noticeable. A good retailer will usually post close up photos of any marks or blemishes so you should know exactly what kind of compromise you're making before you commit to the purchase.
Before you buy, do a quick search for coupon codes and promotional codes. Some retailers will offer excellent savings on your guitar purchase if you have the magic money saving phrase to input during checkout. Also, if you find a deal, see if another retailer is willing to beat it! Some music stores will match or beat a competitors price to win you over.
Lastly, if you're looking to buy a new guitar, consider waiting for sales or promotional events. You can save a lot of money this way without sacrificing on anything. Helpful hint: guitar suppliers often hold their best sales around major holidays to try to attract buyers.
Buying a guitar for your child
The great pianist and teacher Josef Hoffman once said that the first musical instrument you get for your child should be the best one. He reasoned that learning to play on a poorly designed instrument that won't stay in tune could hamper your child's ability to correctly identify tones. I tend to agree with that. If your child is starting out with an instrument that is capable of a full range of dynamics and accurate tonality, they're going to have great early exposure to the subtle colors and ambiance that only a good instrument will give them. Giving your child a great guitar to start out with and coupling that with good musical instruction will give them a strong foundation to build on.
Buying a guitar for playing gigs and giving concerts
If you're purchasing a guitar for professional use, you'll definitely want to get one that offers top notch sound quality. Being able to project your musical vision is quintessential to performing artists, so you'll likely want to give some careful thought as to what sort of sound you're going for. When it comes to performance, even the aesthetic of a guitar can count towards defining your persona as an artist. From Bo Diddley's Twang Machine to Zakk Wylde's Graveyard Disciple, guitars have played a part in defining musical artists. So while sound and build quality is certainly paramount, try to keep the look you're going for in the back of your mind as well when shopping around.
Buying a guitar for personal learning
If you're buying a guitar with the goal of learning to play, you'll want to seek out something that's comfortable for you. You might also want to consider some of the user friendly features you'll get with many acoustic electric guitars. options like a built in tuner and the ability to plug your instrument into a computer or digital recorder for easy playback via an adapter can go a long way towards making the process of learning easier and more objective.
As with all of these scenarios, it's important to love the sound of your instrument. It's also a good idea to go with a guitar maker that produces instruments that can be played right our to the box with little to no modification. Believe it or not, many budget guitars may need adjustment before you can use them optimally or without discomfort. A few common things you might encounter immediately with lower cost guitars include needing to replace poor quality strings, having to adjust your guitar's action via the truss rod to prevent finger pain or string buzz, or having to file the frets and re-crown them (also to prevent annoying buzz). If you're not comfortable doing this yourself, you'll have to pay a a professional to do it and this offsets a lot of the savings you thought you had by going with a cheap model. made Read other people's reviews and look at the manufacturer's statements to see what they do to ensure a quality instrument that's ready to go as soon as you get it.
Buying a guitar for recording in the studio
While certain guitar makes and models are touted for providing industry standard sound in the recording studio, don't be fooled by what is mostly hype. The real, truly important thing is that you love the sound of your guitar. With the right recording equipment, you'll be able to harness that sound regardless of what you decide to go with. That said, certain features may be desirable in certain recording situations. For example, if you're planning to play in a band you'll probably want a brighter sounding instrument with good sound projection to cut through the audio mix. In scenarios like this, a spruce top guitar is going to serve you well. In other scenarios, like singer songwriter, you might prefer a warmer, mellower sound that a wood like cedar or mahogany will give you.
Financing Options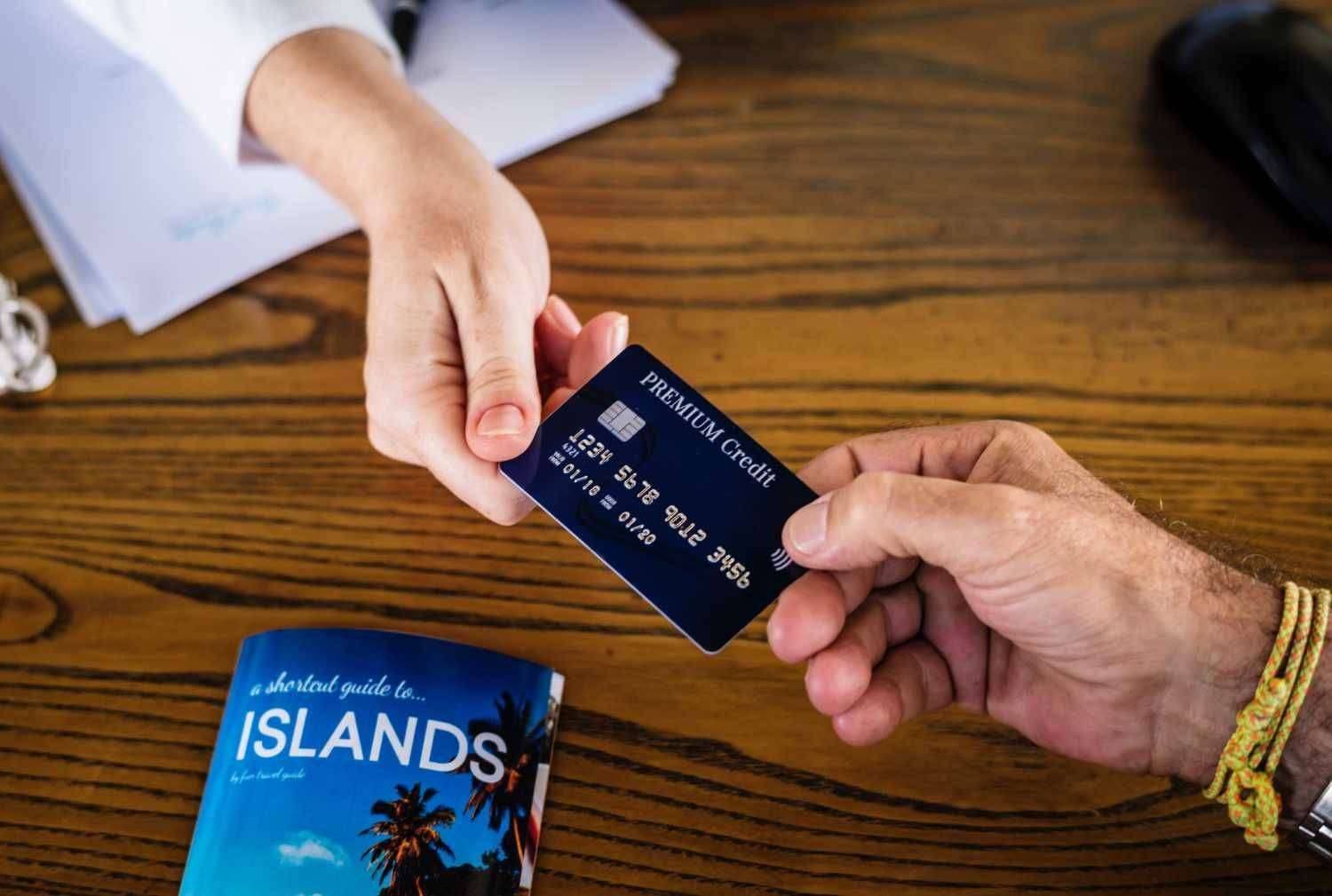 I've written extensively on guitar financing options and done lots of research to help people of all credit types get the guitar they need at the best price possible. In some cases, having access to the right financing could make the difference between settling for an instrument that hampers artistic expression or getting one that delivers a lifetime of enjoyment. While I'll briefly go over some of the major considerations available to you below, I wrote an in-depth article on the the best guitar financing options for those interested in reading further on this subject.
Zero interest financing
There are many financing options that provide zero interest terms for paying off a guitar purchase. What I tell people to look for is the bottom line price tag. Find out what the total cost over time is going to be for you. If you're going with zero interest promotional financing, make sure you figure out how much your payments need to be each month to pay off your financing in full before the end of the term. Many options like this accrue what's often referred to as "deferred interest" – a dangerous type of interest that Forbes Magazine recently called out as "a trap." This interest piles up for the duration of the loan and you'll need to pay it in full if your loan isn't paid off completely by end of the promotional period. This can wind up costing you a lot of money! For example, if you got 2 years of zero interest promotional financing on a $1,000 guitar and just made the minimum payment without paying off your loan by the end of that term, you could be looking at something like a 28% APR rate, which could cost you as much as $560 in interest. Now your $1,000 guitar cost you $1,560.
Payment Plans
Payment plans are often simple, up front, and (in this writer's opinion) the perfect way to go when financing a guitar. The beauty of some payment plans is that you only pay a nominal fee, often something in the realm of five to ten dollars, to get setup. From there, you make easy interest free payments monthly until your balance is paid in full. I wrote an in-depth article on the best place to finance music gear on a payment plan so if you'd like to look more into this, go check it out!
Progressive Leasing
Progressive leasing is a lot like a payment plan, but tends to differ in that you don't own the instrument you're financing until it's paid off in full. Many of the progressive financing options I've seen are fairly reasonable, but you'll definitely want to  look into the option your considering before going that route to make sure it's the best one for your needs. The options I looked into offer shorter terms than some payment plans, so that's worth bearing in mind too.
Rent to own
The Federal Trade Commission recently put out an article tittled "Rent-to-Own: Costly Convenience." While my own personal experience mostly align with the FTC's statements, I do think there are some smaller music shops that rent equipment for things like school band and music class at fairly reasonable rates. From what I've seen, rent-to-own certainly isn't the most cost effective avenue to owning an instrument, but I do think an option like this could be useful to people who just want an instrument for the short term. Rent-to-own often includes free maintenance and gives you the flexibility to try an instrument without buying it, making it a compelling consideration for those up on the fence about committing to owning one.
On the other hand, if you're serious about music and know that you're going to commit to it or if you've taken the time to try out an instrument in person and know exactly what you want, I'd just move forward with financing it through an alternative option as you'll likely save yourself a lot of money in the process.
Music store credit cards
If you've got good credit, you may be able to get a store credit card at many musical instrument retailers to help you finance your new guitar. While this can be a good option to consider, just keep in mind that many of the zero interest promotional financing offers may contain the deferred interest that I warned about earlier.
Financing a guitar with bad credit
Believe it or not, there are some pretty great options out there for people with bad credit to finance a guitar these days. While financing a guitar with bad credit used to be pretty hard, that just isn't the case anymore. In fact, the options have gotten so good that some of my top recommendations for people with bad credit now overlap with my recommendations for people with awesome credit! I list a bunch of options in another article that I would encourage you to check it out if you'd like to look further into this. I also talk about my personal favorite choice for financing a guitar or other musical instrument with bad credit if you'd prefer to jump right into that instead.
Guitar Construction
There are many things worth taking into consideration when it comes to guitar construction. Purchasing from a guitar maker with a good reputation for build quality, getting an instrument that's made from enduring materials, and selecting the right tonewood to achieve the sound you want are a few of the more important things to think about.
An important part of selecting the right build for your guitar is knowing the names of the major parts of the instrument. I put together the graphic (above) that corresponds to the list of part names (below) for easy reference.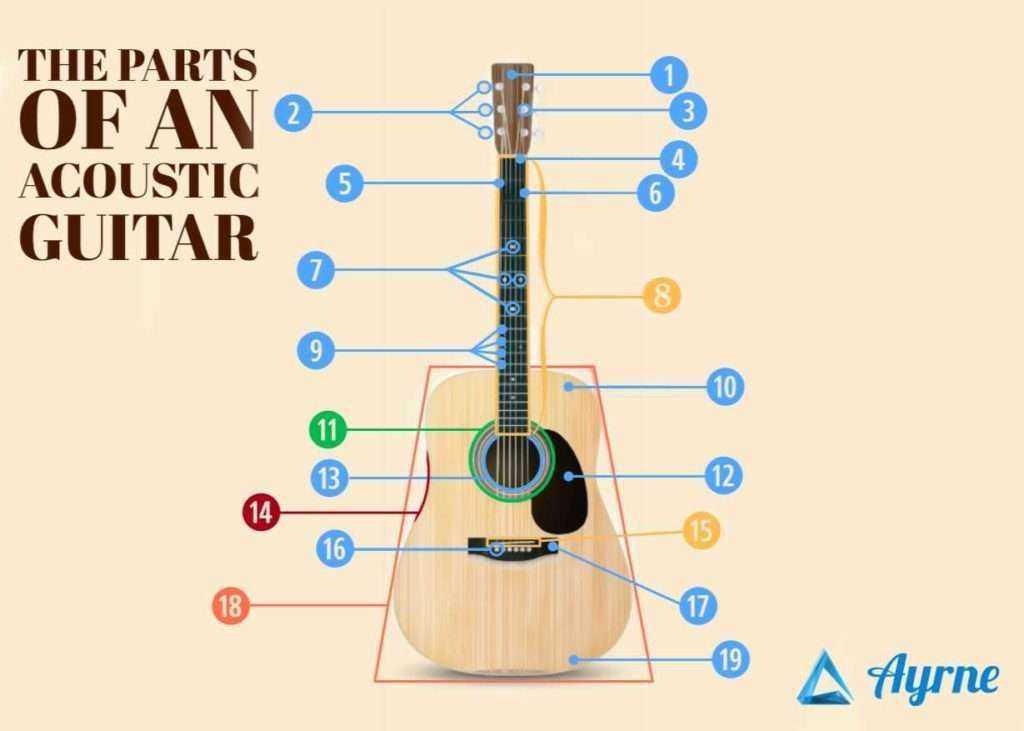 Headstock is a part that sits at the very top of the guitar over the fingerboard and nut. Headstocks are usually made from a strong hardwood and are designed to house the tuning pins.
Tuning pins (also referred to as tuners, machine heads, tuning pegs, or tuning keys). As the various names for this guitar part suggest, these give you the ability to tune your instrument. By tightening or loosening the strings, you'll also be able to make use of alternative guitar tunings such as drop D, open A, standard E-flat, major thirds, all fourths, all fifths, and more!
Capstan (also referred to as a string post)
Nut is a part of a guitar that's not nearly as crazy as it sounds. In fact, it's pretty important as it keeps your stings fixed in place. Each string is held firmly in a dedicated groove by tension on its way up to the tuning pins.
First fret is a pretty self explanatory part of a guitar as it describes the first (numero uno) fret as counted from the top of the guitar down.
First string is another easy guitar part term that refers to the first string on a guitar as counted from the left side of the fretboard to the right. Note: if you're playing a left-handed guitar the first string will count up in the opposite direction from right to left.
Position markers are a common feature of many acoustic guitars, although many classical style guitars do not have them. In essence, they're little dots or markings on the fretboard that, much like frets, serve as visual reference points to different tonal ranges. However, unlike frets, they don't serve any mechanical purpose in determining tonality. Position markers are typically inlaid on the 3rd, 5th, 7th, 9th, 12th, and 15th frets, with the 12th (octave) fret often being denoted by a double dot (or marking) versus a single one.
Fretboard (also referred to as fingerboard) is affixed to the neck of the guitar which sits directly behind it. If frets (that we'll talk about next) are like keys on a keyboard, you can think of the fingerboard itself as being the space you place you're fingers to create different tones, but without any visual cues to tell you what notes you're actually playing. Some instruments, like the violin, don't have frets for visual reference, which makes them much harder to learn and master since you have to train your fingers to hit just the right spots to get the correct notes.
Frets are strips, usually made of metal, that are set into the fingerboard. You can think of them as being much like the piano keys of a guitar since they do serve as reference points to different notes. However, unlike a piano key which is designed to be hard coded to a specific string or strings that are tuned to a specific note, when you press a guitar sting into a fret, it shortens the length of it giving you different notes from the same string.
Upper bout is a term for the outward curves that flow into the top of a guitar's body. You can think of them as being kind of like a guitar's shoulders.
Rosette as an ornamental part of a guitar that's inlaid around the sound hole (see #14). It's mainly there to look good and it can be made from a wide variety of materials ranging from abalone and mother of pearl to wood and plastic. Some rosettes are eve burnt into the wood.
Pick guard is a part of a guitar that works kind of like a body guard. Usually made from plastic, it's there to keep your guitar from getting all sorts of nasty scuffs and scratches when you get carried away in the moment and start strumming like you're possessed.
Sound hole is the part of the guitar that lets it sing. The sound hole takes all of the auditory goodness from your string plucking and twanging, bounces it around in the guitar body, and reverberates it back out to your audience in a way that's much bigger, louder, and richer than it would otherwise be.
Waist is a term that describes the inward curves of a guitar at either side near the center of the body. You can think of this as being kind of similar to a person's waist.
Saddle is a part of the guitar that mirrors the nut we talked about in #4. Like the nut the saddle also hold stings in place on their way to the bridge pins. as above, so below.
Bridge pins (also referred to as string pegs) are cool little pin shaped objects that are pressed tightly into holes in the bridge near the bottom of a guitar. Along with their tuning pin counterparts at the top of the guitar, they bear most of the tension from the strings.
Bridge is a part of a guitar that certainly won't let you cross over a body of water, but it does one thing very well, and that is to add strength and a final resting place for your strings, and high tension bridge pins.
Body is an area of a guitar that's actually made up of 3 major components - the soundboard (also referred to as "top"), along with the back, and sides. The soundboard is often made from a different type of wood than the back and sides. The most common combination being a spruce top with the back and sides being fashioned out of mahogany.
Lower bout is term that describes the outward curves that flow into the bottom of a guitar's body. You can think of them as being kind of like the hips of a guitar - except that guitars don't have legs - so, yeah.
Scale size explained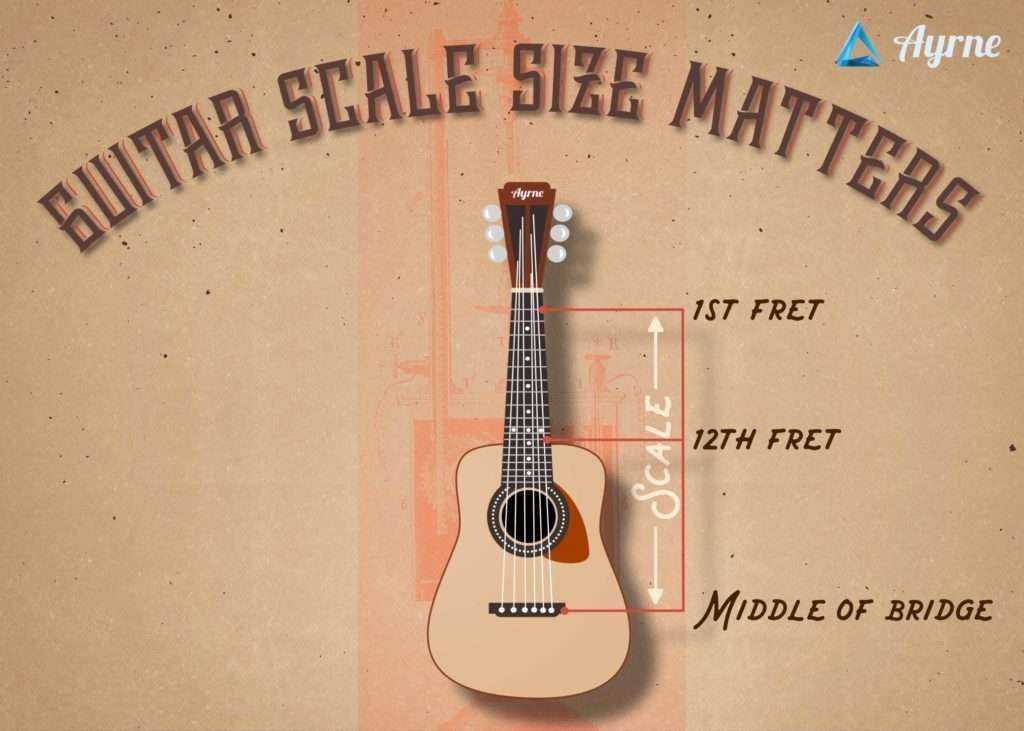 Scale size is just as important as the total size of the guitar. In fact, in some cases it's more important - especially if you're buying a guitar for a child. If you've got average to larger fingers, the chances are pretty good that you need a guitar with a full sized scale. Otherwise, you'll probably find it very difficult to play the right notes. The good news is that you can get a guitar body as teeny as you like - so long as the scale is full size, you should be able to play it! When it comes to buying a guitar for a child though, you should check out the children's guitar sizing chart I have listed below, as children's guitar bodies have special, smaller scale sizes to accommodate small to tiny fingers.
Tonewood options
Tonewood choices for a new guitar purchase are pretty diverse and selecting the right one for your new acoustic guitar is an important part getting the sound you want. It's also important to consider the impact your purchase may have one the environment at this point. Some guitar makers, like Taylor, Martin, Fender, Guild, Walden, Yamaha, and Seagull, pledge to produce guitars through sustainable forestry practices. In fact, a number of guitar makers have partnered with The Music Wood Coalition to join forces against deforestation from musical instrument manufacturing. Gibson also unveiled a new sustainable guitar series this years that includes the J-45 Sustainable 2019, L-00 Sustainable 2019, and Hummingbird Sustainable 2019.
While the temptation to get an amazing deal on an off-brand acoustic guitar may be real, please consider researching the company you're considering buying a guitar from to make sure the environment isn't paying the price for your savings. Entire species of trees are now on the verge of being extinct due to their desirability for things like musical instrument manufacturing and it's important to ensure future generations will be able to enjoy the same quality tonewoods that you're able to today.
That said, here's a useful list of tonewoods to consider along with a description of their various qualities:
Alder is a uniformly brown colored medium weight tonewood with an acoustically resonant low end, focused mid-range, and sparkling top end.
Ash is a lightweight, wide grained tonewood that is preferably sourced from America's southern swamp regions for superior tonal quality. At its best, Ash has a firm bass and top end with a cut midrange.
Basswood is a light colored, light weight and fairly soft tonewood. Solid basswood guitars typically have a robust midrange acoustic quality with a contrastingly lighter, airier top end.
Korina, also called "Limba," is a highly sought after tight grained hardwood that is either a light whitish shade (white limba or korina) or dark with light stripes (black limba). The tonal quality of Korina is warm, resonant, and well balanced.
Bubinga is a dense crimson bronzish colored exotic tonewood with a sound unto itself. Expect excellent sustain in a warm balanced tonal quality that has a bassy low end, crisp well-defined midrange, and shimmering quality throughout.
Cedar is a softer and less dense brown colored tonewood that provides a remarkably warm and resonate sound. Cedar is ideal for lighter guitar players who want a more intimate sound and playing experience.
Cocobolo is an exceptionally dense, heavy-weight exotic hardwood that's sourced from Central America. This tonewood is prized for its beautiful grain and dreamy color variation.
Ebony is a very dense and extremely tight-grained tonewood that provides a clear and highly resonant sound. Ebony is capable of producing both bright and dark soundscapes.
Granadillo is another rare and extremely dense hardwood that is often said to have a tonal quality that is bell like. While similar to rosewood, Granadillo is both harder and denser, giving it a clarity and sustain that is all its own.
Koa is a fairly rare tonewood sourced from Hawaii. It has a bright tone that becomes warmer with continued playing and overall sound that is somewhere between maple and mahogany.
Mahogany (also called "Big Leaf Mahogany," "Bolivian Mahogany," "Honduran Mahogany," "Peruvian Mahogany" and "South American Mahogany") is a dense, durable hardwood that is naturally dark brown in color and sourced from South America. This wood has been a mainstay in acoustic guitar making and it's well know for providing rich, bassy warmth to the bottom end of a guitar's sound. Though used in guitar bodies, mahogany is most commonly used a neck wood.
Maple is a tonewood sourced from the America's Pacific Northwest. Maple is known for having a shimmering tone that stands out in audio recording and relatively short sustain time.
Muira Piranga is a dense, tight-grained exotic tonewood that yields a warm brilliant, well balanced sound.
Ovangkol is an African relative of Rosewood with similar tonal properties. Ovankol, however, is generally considered to produce a more robust midrange with a clear, but well rounded top end that is less sharp than maple.
Pau Ferro, also sometimes called "Bolivian rosewood," "Morado," or "Santos Rosewood" is wood often used as a substitute for real rosewood and bears very similar tonal qualities and appearance.
Poplar is a relatively soft, lighter colored "hardwood" with a subdued tonal presence. While balanced enough, Poplar isn't particularly good in the resonance and sustain departments.
Purple Heart Is a hard and very dense tonewood with a strikingly purple hue. It's used for building the body, neck, and fretboard of guitars. Solid purple heart bodies yield a rich bass similar to Bubinga with well balanced mids and a crisp, but well rounded top end.
Rosewood is a dense and very hard tonewood that is most commonly used for fretboard construction. It's also used as a guitar back and side material. Solid Rosewood guitars are rare as they're quite heavy and considered to produce an overly sharp tone quality.
Sapele is another dense, durable hardwood with a dark brownish red hue. Sourced from Africa, it has similar tonal properties to mahogany and it's often used as a substitute for it in guitar making.
Spruce comes in a variety of flavors, including "Bear claw spruce," "Ezo spruce, "Engleman spruce," and the more common "sitka spruce." Spruce is more or less the universal standard when it comes to guitar soundboard materials. With its light weight and tight grain, spruce is the perfect material for resonant, high velocity tonal quality.
Walnut is a dense and moderately heavy deep brown colored tonewood that has acoustic qualities not unlike that of mahogany or Koa. Walnut typically produces a warm but well focused sound.
Wenge is another dense and heavy exotic tonewood that has a tonal quality similar to koa, bubinga, and muira piranga.
Acoustic guitar body style options
As you'll see in the chart below, there are tons of of options when it comes to choosing an acoustic guitar body style. In buying a guitar, your mission is going to be choosing one that best suites your aesthetic preferences, has a desirable sound, and feels comfortable to play.
Get an acoustic guitar body that suites your needs
Do you a want a big resonate sounding guitar for concerts and busking or a guitar that will give you full tone and intimate sound at lower volumes? Believe it or not, the body type has a lot to do with the kind of sound you'll get out of your guitar. As a general rule, the larger the guitar body, the more energy you need to put into your playing to be in a tonal sweet spot. The smaller the guitar is, the less resolutely you'll need to strum it to get that same kind of full bodied tone. Conversely, small body guitars tend to max out volume wise and produce more of a compressed sound when they're pushed to their upper volume limit, whereas a larger guitar like a dreadnought or jumbo is totally in its home territory pumping out crisp, clean high volume sound.
Selecting a body model that fits you
Besides sound, different body types will likely be more comfortable to play for some people than for others. That's I why I highly recommend visiting your local musical instrument retailer to try one out in person before buying it. Even if the brand you want isn't available at your local retailer, just play something in the size range you want to get an idea of what to expect before you order it online. And who knows, maybe you'll find something you love at your local shop that you hadn't even though of before.
Common acoustic guitar body models/types from smallest to largest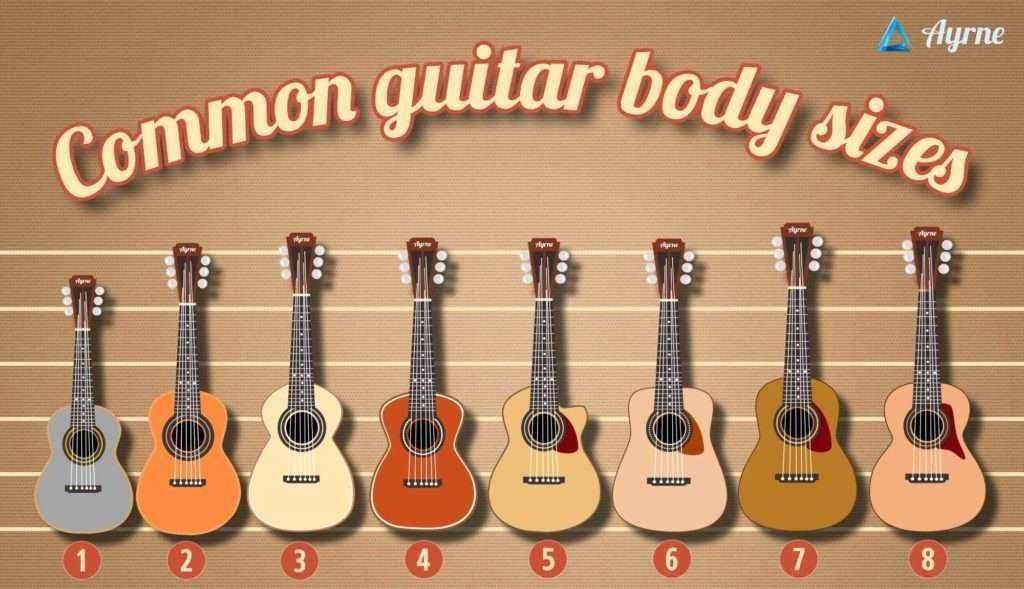 Parlor "baby" guitar body (the smallest standard guitar size)
00 guitar body
000 guitar body
OM (orchestra model)
AS (grand auditorium) model guitar body
DS dreadnought model guitar body
SD (slope shouldered dreadnought) model guitar body
JS (Jumbo) model guitar body
While sizes by model type can differ from guitar maker to guitar maker, here are a list of body model sizes based on Martin's manufacturing standard for reference.
Other small body acoustic guitar types
In addition to the traditional guitar body sizes, a number of new designs and naming conventions have recently become popular. Unlike traditional body model naming conventions, which have some bearing to a standard, the new terminologies tend to be a bit more ambiguous. For this reason, I really recommend checking out the product description of the guitar for size information if you're planning to purchase it online. One thing is mostly constant though - while these are smaller body guitars, most of them have a full sized scale and are designed for adult players.
Traveler acoustic guitar
Mini acoustic guitar
Backpacker acoustic guitar
Despite their reduced size, travel size guitars are designed with adult guitarists in mind and usually feature a full sized scale. As the name suggests, these guitars are ideal for musicians on the go.
Children's guitar body size recommendations
If you thought the last two lists were daunting, the rabbit hole gets even deeper with children's guitar sizes. While many of these overlap with the adult sizes listed above, this helpful chart should allow you to select the perfect guitar size for your child. As a side note, if they're in the middle area of the height chart, I recommend going with the next size up to prevent needing to upgrade as quickly. Important side note - the biggest difference between children's guitar sizes and small body guitars is that the scale will be smaller to accommodate the relatively smaller fingers of children.
| Body size | Total lenth | Child's age | Child's height |
| --- | --- | --- | --- |
| 1/4 | 30" | 4-6 years | 3'9" |
| 1/2 | 34" | 5-8 years | 4'3" |
| 3/4 | 36" | 8-11 years | 4'8" |
| 7/8 | 39" | 10 years+ | 5'1" |
| 4/4 | 40" | 12 years+ | 5'3"+ |
Main types of acoustic guitar
Acoustic guitars have many variations to choose from. Depending on what your needs are, some options may may be better suited to your to you than others. Here is a list some of the more common ones.
Hollow-body (a semi-acoustic guitar that is primarily an electric with some acoustic capabilities that are best suited to practicing)
Acoustic-electric (a fully acoustic guitar with built in pickups)
Acoustic (a fully acoustic steel string guitar)
Classical acoustic (a fully acoustic nylon string guitar)